Toys R Us: Why did it fall from grace?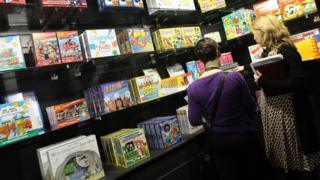 Toys R Us could be forced to go into administration later this week at a time when the UK toy industry is booming, according to an expert.
But what has gone wrong and what is behind its fall from grace?
"Toys R Us was the Apple Store of the toy world," toy expert Peter Jenkinson told the BBC.
"They went big and out of town with a big car park and piled everything high, but did not sell particularly cheap or do great online."
He adds: "It had a great jingle in the 90s, was the first big US toy shop in the UK and it all sounded great.
"But then competition came along and Toys R Us hasn't kept up."
'Dated'
While online rivals have played a part in the demise of Toys R Us, Mr Jenkinson says the future can still be bright if the company can survive its current difficulties.
"Online companies like Amazon have definitely had an erosive effect on traditional High Street shops, but there is still a place for all of them.
"Argos is the number one retailer for toys and The Entertainer has built up a portfolio of 150 stores in the UK by having a great in-store experience. It is still quite nice to go out and buy some toys and have that experience and Toys R Us feels a little bit dated."
However, there have been some improvements at Toys R Us, as Mr Jenkinson continues: "I did go into a store I'd avoided for a year recently and their culture had changed quite dramatically and they must carry on doing what they have been doing in the last few weeks.
"There were more staff who were more knowledgeable and more approachable, whereas I felt in the past they had just hoped people would buy."
Retro game revival
The UK toy industry has been flourishing, with a move away from electronic devices and back on to traditional games - and it is not only children who are playing.
"There has been a massive resurgence in board games, with a 25% increase in sales last year and the same the year before," says Mr Jenkinson.
"Some new research shows that over 10% of toys bought in toy shops are sold to adults, with things like bigger Lego sets doing well.
"There is definitely a marked pushback of digital. It is now such a part of everyday life that people want things that are a bit more collaborative, where people can interact with each other and not just with their kids.
"This is a kind of pivotal year for the industry, with a lot of toys around the new Star Wars film.
"I don't think this year will probably be as strong as last year, but sales figures should remain high and I would rather buy toys for my kids than eat a turkey."
'Unwelcoming'
Retail analyst and consultant Nick Bubb thinks that Toys R Us's warehouse-style shops are working against the company.
"The main problem is simply that the stores are too big and unwelcoming," he told the BBC.
"They have tried a few smaller, mall stores, without much success, perhaps because the store format was too boring."
You might also like:
Mr Bubb added: "The decline of the video game market hasn't helped TRU, as that was once quite a big category for them.
"The toy market ebbs and flows with the new Disney products, but I think it's reasonably stable, although there are winners and losers.
"Consumers shop online for toys these days or where it's convenient - like at big supermarkets - but toy specialists still have a role, as The Entertainer chain still seems to be pretty successful.
"The shopping mall business is polarising between discount/convenience focused locations and the big super-regional premium malls, with cinemas and restaurants.
"The middle market is suffering, as it is in so many sectors of the retail industry."