US finds against Bombardier in Boeing dispute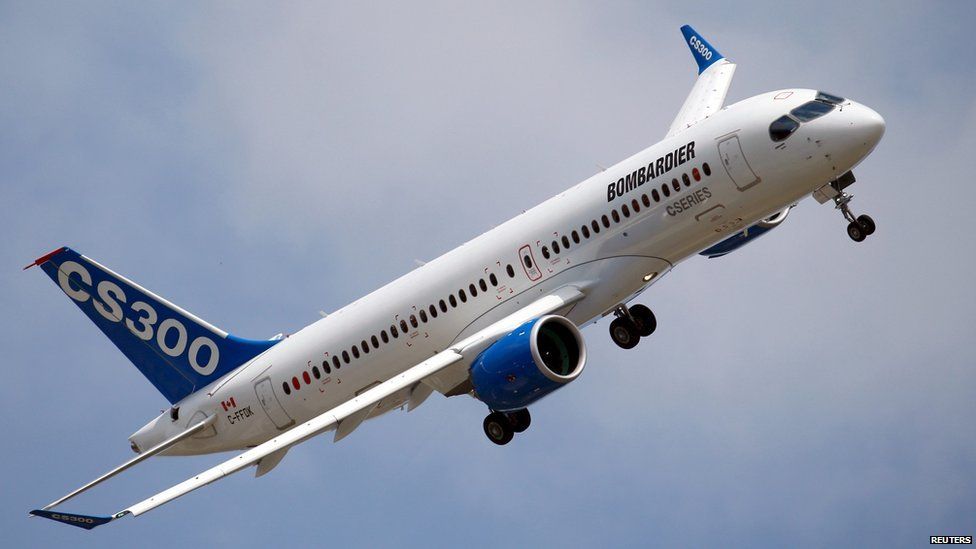 The US has ruled that Canada's Bombardier received government subsidies and sold C-Series jets below cost in the US, a step likely to lead to steep tariffs.
The US Commerce Department investigated the aerospace firm's US sales after a petition from rival American company Boeing.
The conflict has the potential to lead to job losses in Northern Ireland.
Bombardier said it was "deeply disappointed" in the decision.
The dispute has contributed to escalating trade tensions between the US and Canada.
The fight stems from a 2016 sale of 75 C-Series jets to Delta Air Lines. Boeing claims Delta paid $20m per plane, well below an estimated cost of $33m and what Bombardier charges in Canada.
Bombardier employs about 1,000 people in Belfast linked to the C-Series.
The Unite union in the UK called the Commerce Department decision "nakedly political", adding it had the potential to "crush jobs, not only in Northern Ireland but in the US too".
"More than 50 percent of C-Series components are sourced from the US, where the supply chain sustains 22,000 US jobs. The economic impact of these tariffs would be felt in communities on both sides of the Atlantic," said Unite assistant general secretary Steve Turner.
"Boeing is using its meritless complaint as cover to close the US market, which is one of the biggest in the world, to new entrants such as Bombardier's C-Series aircraft."
The Commerce Department's final determination on Wednesday set trade duties of about 292% - slightly lower than a preliminary finding.
The inquiry now moves to the US International Trade Commission, which will examine if the dumping and subsidies caused injury to Boeing. It is expected to make a final decision in February 2018, which would trigger the duties.
This week, Canada's ambassador to the US warned that it might take the fight to the World Trade Organization, if the US continues to side with Boeing.
Earlier this month Canada scrapped plans to buy 18 Boeing Super Hornet fighter jets, underlining Canada's anger over the trade challenge.
On Wednesday, Bombardier said the Commerce Department had not taken into account Bombardier's plan to build a facility in the US, as part of a planned partnership with Airbus.
"This facility will provide US airlines with a US-built plane thereby eliminating any possibility of harm due to imports," said spokesman Mike Nadolski.
"Unfortunately, the Commerce Department decision is divorced from this reality and ignores long-standing business practices in the aerospace industry, including launch pricing and the financing of multibillion dollar aircraft programs."
The Commerce Department said it will collect the duties from the importer, if the US commission finds against Bombardier.
Delta has said it plans to move forward with the order, but does not expect to pay the tariffs.