Candy brothers win court battle over £132m damages claim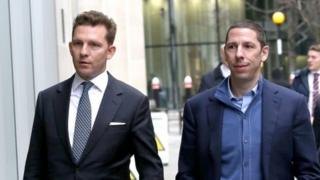 Billionaire property developers Nick and Christian Candy have defeated a £132m damages action in the High Court.
Mark Holyoake sought the damages, arguing he suffered losses and received threats to himself and his family after borrowing £12m from Christian Candy.
Following the bitter courtroom battle earlier this year, Mr Justice Nugee ruled on Thursday that none of Mr Holyoake's claims were proven.
But he added that neither side emerged "from the trial with great credit".
"Each has been shown to have been willing to lie when they consider their commercial interests justify them doing so," he said.
The judge added that Mr Holyoake had "repeatedly lied" and that "he and his associates resorted to forgery, deceit and impersonation".
He also said: "Christian Candy, with the encouragement of his brother, told a series of deliberate lies to Mr Holyoake."
In a statement released after the case, the Candys, who have always denied the allegations, said: "It has taken a great deal of time and effort to win this case, and it has caused unwarranted damage to our personal and business lives.
"The claim should never have been brought."
The brothers are best known for creating the luxury One Hyde Park apartment complex in Knightsbridge, in central London.
Nick Candy is married to the Australian actress and singer Holly Valance.
Appeal
The dispute arose after Christian Candy's company CPC lent Mr Holyoake £12m to help him buy and redevelop luxury apartments in Belgravia.
Mr Holyoake claimed he suffered threats when the brothers sought repayment.
He said he paid back more than £37m on the two-year loan and incurred millions of pounds in legal fees and other costs.
Mr Holyoake, whose company was also part of the action, said in a statement: "We, the claimants, are in a state of disbelief that Mr Justice Nugee has not ruled in our favour and intend to seek an appeal with immediate urgency.
"Anyone reading today's judgement will see that there are currently no winners here.
"I stand by our allegations and maintain that my own actions were deployed in self protection and wholly justified in the circumstances."