Ryanair's German pilots to strike on Friday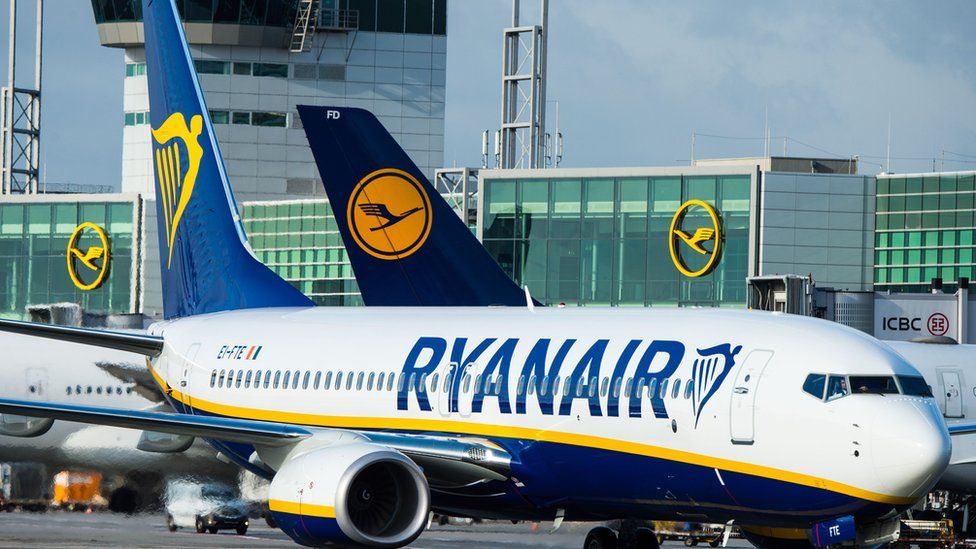 Ryanair pilots in Germany have said they will go on strike for four hours on Friday, following "unsatisfactory negotiations" over union recognition.
The pilots' union said initial talks with the airline had been cancelled.
It said Ryanair had confirmed in writing that the airline now recognised the union.
Impact added that it had accepted an invitation from Ryanair to attend a meeting on 3 January 2018 to agree a "comprehensive recognition agreement that will establish collective bargaining procedures in the airline".
Last week, Ryanair wrote to pilot unions in Ireland, the UK, Germany, Italy, Spain and Portugal inviting them for talks over union recognition.
It had been facing strike action by pilots around Europe in the run-up to Christmas.
VC said talks scheduled for Wednesday were cancelled "at short notice" by Ryanair because the airline "rejected two of the five VC company council members present at the negotiating table".
The head of VC's industrial department, Ingolf Schumacher, added: "Ryanair's public offer to conduct negotiations with VC can only be classified as a further publicity stunt."
Ryanair was "trying to win time and attempting to delay the beginning of collective bargaining," he said.
'Unjustified and unnecessary'
It said the disruption was "unjustified and unnecessary when Ryanair wrote earlier this morning to the VC agreeing to meet them again in Frankfurt as requested on Friday 5 Jan 2018 to progress the negotiations on a Collective Labour Agreement for Germany".
The airline said that at Wednesday's meeting, the union "confirmed that the Ryanair Pilots Council had not been elected by Ryanair's pilots, and contained one former contract pilot who had not flown for Ryanair for 15 months, who is currently in litigation with Ryanair in Germany.
"Ryanair explained that it was happy to negotiate with its German pilots and the VC officials but it would not enter into negotiations with non-Ryanair pilots, or a non-Ryanair pilot who is in litigation with Ryanair."
Ryanair has not previously recognised unions, but it last week said it would change this policy in order to avoid disruption to flights and passengers in Christmas week.
The carrier said it would recognise unions as the representative body for pilots in Ryanair "as long as they establish committees of Ryanair pilots to deal with Ryanair issues, as Ryanair will not engage with pilots who fly for competitor airlines in Ireland or elsewhere".
However, it also said the offer to hold talks about collective bargaining was not just about the short term.
It said it was "the best grounds to move forward with our workforce for the next 10/20 years where we intend to grow to be the biggest airline in the world".