Branson hits back at East Coast rail franchise critics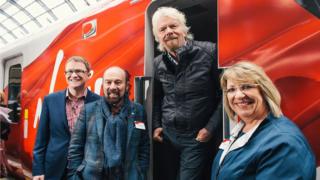 Sir Richard Branson has hit back at critics who say the government has bailed out Virgin Group and its partner in the East Coast rail franchise.
In November, the government allowed Virgin and Stagecoach to withdraw from running the service three years early.
Lord Adonis, former chair of the National Infrastructure Commission, said the move could eventually cost the taxpayer billions of pounds.
Sir Richard said the deal had cost Virgin and Stagecoach £100m.
In 2014, Virgin and Stagecoach signed a deal to run the East Coast line until 2023, promising the government £3.3bn in premiums.
In a blog published on Friday, Sir Richard said the two companies had been promised a huge upgrade of the tracks by Network Rail, which would have improved reliability and allowed more passengers to be carried.
"Considerable delays" to the upgrade and poor track reliability "torpedoed" the assumptions of the original bid, the blog said.
Sir Richard said he and his partners had not benefitted from the government's move, but had lost "well over £100m in total" without receiving a penny in dividends.
---
Analysis: Richard Westcott, BBC transport correspondent
Virgin/Stagecoach were meant to pay around £1.6bn to the government in the final years of the contract.
It will be a while before we know how much the new company will pay instead, but bearing in mind that Virgin/Stagecoach were losing cash, it is bound to be less.
Lord Adonis says other struggling rail firms might ask for similar help.
He writes in his letter: "The bailout will cost taxpayers hundreds of millions of pounds, possibly billions, if other loss-making rail companies demand equal treatment.
"It benefits only the billionaire owners of these companies and their shareholders, while pushing rail fares still higher and threatening national infrastructure investment."
---
Although Lord Adonis accepts Network Rail failed to meet some of the promises on which Virgin and Stagecoach based their bid to run the franchise, he called the move to release the companies from the contract "indefensible".
He also said he was "ready to share troubling evidence with the Public Accounts Committee and other Parliamentary committees investigating the bailout".
The details of the new East Coast contract have yet to come out.