US jobs growth loses steam in December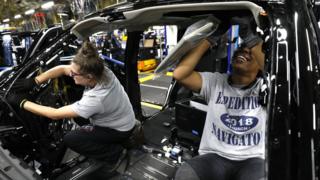 US employers added fewer jobs than expected in December, capping a year of slowing jobs growth.
Non-farm payrolls rose by 148,000 last month, amid losses in the retail sector, the Labor Department said.
But the unemployment rate held steady at 4.1%, the lowest it has been since 2000.
Analysts say the tightening labour market, which makes it harder to hire, is driving a broader slowdown in job creation.
The US has experienced years of economic expansion, which has boosted economic growth above 3% in recent quarters and produced annual job gains exceeding 2 million for the past seven years.
The gains are making inroads among parts of the workforce that have been slower to benefit from the economic recovery.
Among black workers, for example, the unemployment rate fell to 6.8% last month - the lowest since at least 1972, when Labor Department data starts.
Nationally, the unemployment rate has hovered at 4.1% since October, a rate not seen since 2000.
Economists have been puzzled that the lower rates have not produced stronger wage growth in recent years.
Annual wages growth crept up from 2.4% in November to 2.5% as average hourly earnings rose by nine cents. That is similar to rates in previous months.
In December, construction and health care firms reported the strongest job gains, adding about 30,000 positions.
Employment in manufacturing - an industry President Donald Trump has targeted for growth - also grew by about 25,000.
But retailers shed 20,300 jobs, weighing down the final tally. That sector - which accounts for about a tenth of US jobs - has been battered by the growth of online shopping and shifts in spending habits.
Department stores such as Sears and Macy's closed hundreds of outlets last year - with more to come.
Efforts to adjust the figures to account for seasonal hiring may also be affecting the numbers, analysts said.
'Supply issues'
The US added 2.1 million jobs in 2017, 100,000 fewer than in 2016 and 600,000 down on the year before that.
Economists predict the number will be even lower in 2018, amid the low unemployment rate and broader changes in the US workforce, including the aging of the large Baby Boom generation, which is starting to retire.
"We're running into some supply issues and the demographics aren't favourable," said Sarah House, a Wells Fargo economist.
"If you don't have that supply, that's going to influence really how many jobs you can actually end up creating."
The labour force participation rate - the share of the population working or looking for work - has barely budged in three years.
In December it was 62.7%, about 4 percentage points lower than in the 1990s when the US last experienced a similar streak of job increases.
Many people who left the workforce amid the recession have returned, counteracting other demographic shifts, said Gus Faucher, economist at PNC Bank.
But he said the pool of potential workers will not be as deep in the future.
"The slowing in job growth is completely expected," he said. "It's going to lead to slower long-run growth, but it's not going to lead to a recession."