Is economic struggle driving North Korea to negotiating table?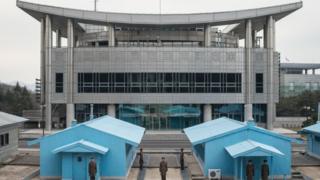 US President Donald Trump might believe he's the reason for South and North Korea coming to the negotiating table.
But does the North's leader Kim Jong Un have a very practical reason to start showing a different face to enemies across the border?
I reckon so. And that reason is the economy. Here's why:
1) Sanctions are beginning to bite
Exports of goods such as textiles, coal and seafood are the biggest contributors to North Korea's GDP.
It's difficult to gauge just how much of an impact sanctions have had on the country's economy, simply because growth rates for the 2017 year have yet to be estimated.
But exports may have declined by "as much as 30% last year", according to Byung-Yeon Kim, author of the book "Unveiling the North Korean Economy".
In particular, exports to China - North Korea's biggest trading partner and the reason many believe Pyongyang is able to survive - are down as much as 35%.
That's a third of the regime's economic growth wiped out. And Professor Kim's figures don't take into account the latest sanctions that were passed in December which targets, amongst other things, visas for North Koreans working overseas.
Remittances from those workers are the second biggest foreign exchange earner for Pyongyang. And some predict that new sanctions could cut North Korea's hard currency earnings by up to 80%.
It's all bad news for a regime that in part maintains its legitimacy by keeping the elite happy with luxury goods bought with foreign currency.
2) The economy is increasingly a priority
You just have to read the text of Kim Jong Un's new year speech to see where his focus lies.
The word "economy" is peppered through the speech, getting almost as much play as "nuclear".
Because North Korea can't make foreign currency through exports or foreign labour anymore, another potential source of hard currency is tourism.
One of the projects Kim Jong Un names explicitly in his speech is "the Wonsan-Kalma coastal tourist area". And he also expects a "revival of travel to his country in 2018."
So where are all these tourists going to come from?
Well, as Professor Ruediger Frank at the University of Vienna points out, in the past it has been South Korea. Between 1999 and 2008, hundreds of thousands of South Koreans visited the North during a time of less hostile relations.
Kim Jong Un may be hoping for a similar result in the future, which perhaps help explain the North's about-face at the negotiating table.
3) Nuclear capabilities have been proven
A series of successful missile tests have demonstrated the regime's ability to develop nuclear weapons, each one more seemingly more sophisticated than the last.
And despite the bellicose rhetoric from the US and Donald Trump, North Korea has managed to consistently conduct its missile tests with no real retaliation or repercussions, barring sanctions.
So in a sense, Kim Jong Un isn't losing anything by negotiating with South Korea.
He's developed the weapons he believes he needs, and has what he thinks to be an effective nuclear deterrent necessary for his regime's survival.
But with a weakening economy what he may now need is help to offset the effect of sanctions.
In summary...
Let's be realistic. Kim Jong Un isn't desperate yet. Sanctions and a weaker economy aren't going to have the regime discarding its nuclear goals.
And there are still plenty of ways for it to make money, including via the latest asset class to hit international markets - cryptocurrencies.
But it IS possible to see why North Korea may be more inclined to head to the negotiating table - especially with South Korea which has already said it may consider removing some sanctions temporarily during next month's Winter Olympics.
So practical concerns may outweigh nuclear needs for now, especially as North Korea has proved what it has always said it would: that it is a real nuclear force to be reckoned with.