Hammond on EU: Stop talking about 'punishing' UK over Brexit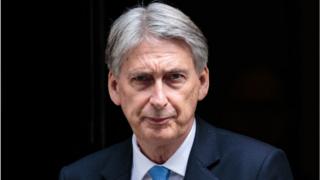 He is taking his message to the heart of Europe.
In a speech to business leaders in Berlin tonight, the chancellor will say it is time for the European Union to engage more positively in the Brexit negotiations.
And stop talking about "punishing" the UK over Brexit.
After months of grumpy noises from Brussels over a perceived lack of clarity from the UK, Philip Hammond will say that Britain needs to hear about the ambition the EU has for a deep trading relationship with the UK.
My sources point out that with Australia, Canada and America all making positive overtures about free trade agreements with Britain, the lack of a similar offer from the EU could lead to unintended consequences.
Logically, "no deal" could be one of those.
And certainly the present tone of the debate from the EU is damaging the chances of a positive outcome of the Brexit negotiations, my sources say.
Clarity needed
"They say, 'It takes two to tango'," Mr Hammond will argue.
"Both sides need to be clear about what they want from a future relationship.
"I know the repeated complaint from Brussels has been that the UK 'hasn't made up its mind' what type of relationship it wants.
"But in London, many feel that we have little, if any, signal of what future relationship the EU27 would like to have with a post-Brexit Britain.
"Since the referendum in the UK, there has been a marked asymmetry between the enthusiasm expressed by certain third countries to pursue future trade deals with the UK and the relative silence, in public at least, from Europe on what the EU wants our future relationship to look like.
"I am saying this to you tonight, because I fear that many EU opinion-formers see this as a question only for British politicians, for British voters to resolve, before they engage with the EU27.
"By signalling a willingness to work together in a spirit of pragmatic cooperation on a future, mutually beneficial, partnership, based on high levels of access for goods and services continued close cooperation in security and defence, in education, science, technology, and culture putting behind us any narrative of "punishment" for leaving and focusing on the mutually beneficial relationships we have now and can continue in the future the EU will send a message to the British people which will resonate as they consider the options for their future.
"And that is my challenge to you."
A bespoke deal
Now, the EU could well argue that it was Britain which decided to leave the union and so it is up to us to offer a solution.
Mr Hammond might agree with at least part of that, but nevertheless, the Treasury argues the decision has now been made and it is time to focus on the best post-Brexit outcome for both sides.
If Britain is left with binary option of a "take it or leave it" Canada-style free trade deal (which excludes for example financial services, vital for the UK economy) or membership of the European Economic Area (which allows for free movement of people), then both are likely to be rejected, officials suggest.
The government wants a bespoke deal, and believes the EU should talk more publicly about that or risk "damaging the debate in the UK", according to my sources.
Mr Hammond will say to German business leaders tonight it is time for Britain to throw down the gauntlet and call for the EU to provide some options about what it wants.
Brussels might well say this all has the whiff of "having our cake and eating it".
The Treasury responds - we are where we are. How do we make the best of it?