The businessman exiled for being Jewish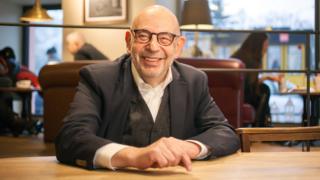 When Adam Ringer was forcibly removed from Poland simply because he was Jewish, he didn't think he'd ever be able to return to his homeland.
It was back in 1968 that Mr Ringer, 19 at the time, was made to renounce his Polish citizenship and kicked out of the country, during one of communism's darker episodes.
Just 23 years after the Holocaust, Poland's surviving Jewish population was targeted by an anti-Semitic purge officially sanctioned by the country's then communist authorities.
Branded an "anti-Zionist" campaign, Polish Jews were stripped of their jobs and deported, because of the government's - and the wider Soviet Bloc's - growing hostility towards Israel at the time.
An estimated 14,000 Poles of Jewish faith or ancestry were forced to leave the country, after each being given a document that stated that its holder was stateless and had no right to ever return to Poland.
Looking back, Mr Ringer says: "Many of my colleagues were arrested... my father was expelled from his job. We were all in shock and feared for the worst."
Mr Ringer, who at the time had been an electronics student at Warsaw Technical University, was taken in by Sweden. His parents, both Polish-Jewish Holocaust survivors, followed a year later.
It wasn't until the fall of communism in Poland in 1989 - 21 years after he was exiled - that Mr Ringer was able to finally return to his homeland.
And in revenge on the communists that forced him to leave Poland, he played a key role in helping the country rebuild a capitalist economy.
Today a well-known Polish businessman, and boss of popular Polish coffee chain Green Caffe Nero, he is able to look back on an adult life that went from trauma and heartbreak to triumphant return and redemption.
Now 68, Mr Ringer says he chose Sweden because he didn't have a lot of options.
"Scandinavian countries' doors were open for people like me, unlike the UK, France and the US," he says. "And it was closer than Israel, where I also didn't know anyone."
His parents, who had survived World War Two because the Soviets had forced them to move from Poland to Uzbekistan in central Asia, struggled to settle in Stockholm, Sweden's capital, but Mr Ringer flourished.
Quickly learning Swedish he embraced Stockholm's academic culture, studying political science and business administration at university, and taking Swedish citizenship.
By the late 1980s Mr Ringer was working in academia and writing a thesis on the rise of Poland's anti-communist Solidarity trade union. But events in Poland meant the thesis was suddenly out of date.
In 1989 Poland's communist government collapsed at the same time as other such regimes fell across central and eastern Europe.
Suddenly Mr Ringer was able to return to Poland, and recognising that the country had reopened to the world of commerce he changed profession from academia to business.
Fluent in Polish, he quickly made a successful career acting as a middle man for various Swedish firms investing in Poland.
But while thrilled to be back in Poland, there was one thing Mr Ringer missed - a decent coffee.
For while Warsaw had been one of Europe's grand coffee drinking capitals prior to 1939, this proud history had disappeared. Firstly the Nazis had systematically tried to reduce Warsaw to rubble when they finally pulled out of the city towards the end of the war, and then the communists had made the population put up with just a few state-owned cafes that served awful coffee.
Finally in 2003, Mr Ringer decided to personally do something to improve the situation and together with friends he opened a coffee shop called Green Coffee. He was surprised that most of the customers were from a very specific demographic.
"When we opened the cafeteria in 2003 our clients were mostly young women," he says. "They still dominate, but the average age is rising, and also more men - 90% of visitors are people with higher education."
While Mr Ringer maintained a number of other business interests in sectors including recruitment and medicine, by 2012 he had extended Green Coffee to eight outlets.
Seeking additional investment, that year he sold a majority stake in the business to UK coffee firm Caffe Nero for an undisclosed sum, and Green Coffee was renamed Green Caffe Nero.
With Mr Ringer still in the managing director role, the company now has 58 outlets. This is roughly the same number as Starbucks has in the country, but half that of market leader Costa, which has some 120 branches.
Green Caffe Nero's annual turnover is now 50m Polish zloty ($14.5m; £11m) a year.
Cafe Nero's chief executive Gerry Ford says he was very happy to go into business with his Polish partner, because Mr Ringer has "a very international perspective".
---
More The Boss features, which every week profile a different business leader from around the world:
---
Jeffrey Young, managing director of research group Allegra Strategies, says that while Poland's branded coffee shop market is "relatively small by European standards it is beginning to expand rapidly".
"Further investment from Costa, Green Caffe Nero and Starbucks will drive further growth, together with the potential for other leading international chains to enter this vibrant market," he adds.
Mr Ringer says he is pleased to have helped Poland regain a part of the country's heritage that was lost during the horrors of World War Two, and then the communist years that followed it - and at the same time connecting Poland with the global growth in coffee shops seen since the 1990s.
Looking back on his student years, he says he still has a "left leaning heart", and that his business philosophy is about treating people - both staff and customers - well.
But "I'm not as leftist as I was," he says. "The world has changed."