Carillion: Support for small firms ends in 48 hours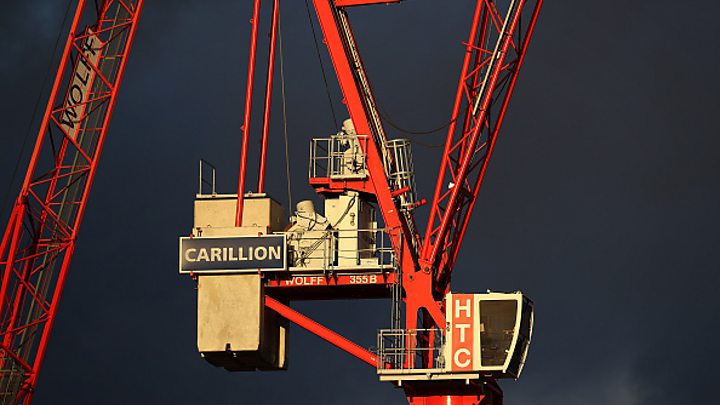 Firms working for failed construction giant Carillion on purely private sector deals will only have two days of government support, Cabinet Office Minister David Lidington has warned.
Carillion spent £952m with local suppliers in 2016 and used an extensive network of small firms, who are now waiting to learn if they will be paid.
One industry group estimates that up to 30,000 firms are owed money by Carillion.
Critics want a review into the crisis.
Britain's second largest construction firm, which employs 20,000 people in the UK, went bust on Monday with debts of about £1.5bn.
Carillion's work stretched from the HS2 rail project and military contracts to maintaining hospitals, schools, and prisons.
On Monday, Mr Lidington said there would be government support for public sector contracts.
Carillion had previously said it used a wide range of small companies because it was "committed to generating regional economic growth and development".
Are you a Carillion contractor? Are you going to work today? Contact us at haveyoursay@bbc.co.uk.
But the head of the Federation of Small Businesses said thousands of jobs and livelihoods were now at risk because those firms would be at the back of the queue for payment.
Mike Cherry said it was a situation made worse because Carillion extended its payment schedule to suppliers last year.
"These unpaid bills may well go back several months," he continued. "I wrote to Carillion back in July last year to express concern after hearing from FSB members that the company was making small suppliers wait 120 days to be paid."
Trade body Build UK estimates that between 25,000 and 30,000 businesses are owed money by Carillion.
It said that in the past, when other big contractors have failed, around 18% of businesses who were creditors did not survive the next five years.
A partner at one accountancy firm, who asked not to be named, said small firms were looking at total losses stretching into hundreds of millions of pounds.
"Asset sales won't even raise enough to cover the debts of senior bank creditors, so many small firms won't see a bean," he said.
Rudi Klein, head of Specialist Engineering Contractor, an umbrella group representing suppliers to the construction industry, said Carillion outsourced virtually all its work.
He said the government knew of Carillion's reliance on sub-contractors, but continued to award the company lucrative work despite growing concerns about its finances.
"It's that supply chain who is going to bear the massive loss," he said. "There could be a large number of firms that will experience substantial financial distress."
Carillion was one of the contractors working on HS2 - the high-speed rail network, which will run from London to Birmingham and to Manchester and Leeds.
Sir David Higgins, chairman of the HS2 project, said that he was "hopeful" that Carillion's failure would not delay the project.
He said that HS2 only has a "very minor" exposure to Carillion as other big firms working on HS2 will pick up its work.
Case study: "I had to make 10 people redundant yesterday"
Andy Bradley is the managing director of Flora-tec, which is owed £800,000 by Carillion for landscaping services.
"The government actively encouraged businesses like mine... to get involved in public sector contracts, to make sure the little guy got a slice of the pie.
"When Carillion started to get into trouble last year we were considering that we would scale back our involvement with them.
"However... the government continued to give them billion-pound contract after billion-pound contract and that said to me, as a small supplier, that the government had done their due diligence.
"We were following the government lead... only to be given a sucker punch.
"I had to make 10 people redundant yesterday. That's 10 people with mortgages, car loans, all that stuff. It's an absolute disgrace."
On Monday, Mr Lidington said the government was stepping in to pay employees and small businesses working on Carillion's public contracts and assess the distribution of work among other companies.
However, companies working on private projects will get no such support.
Accountancy firm PwC, which is overseeing Carillion's liquidation, said in a statement: "Unless told otherwise, all employees, agents and sub-contractors are being asked to continue to work as normal and they will be paid for the work they do during the liquidations."
But there were anecdotal reports that work had stopped on many projects.
A bricklayer on the new £350m Midland Metropolitan Hospital building, Philip Ellis, told the BBC that when workers turned up on Monday they were told to go home.
He said: "About 20 of us working for our sub-contractor were told we could go on-site to collect equipment, but that was it.... I spent the day phoning recruitment agencies looking for work - but was told everyone's doing that."
Executive pay
There is also mounting criticism of the pay packages enjoyed by directors in the run-up to Carillion's crisis.
Former chief executive Richard Howson, in charge until last year when Carillion issued the first of three shock profit warnings, will continue to be paid until October.
Mr Lidington told the Commons on Monday that the official receiver had the power to impose penalties if it uncovered any misconduct.
Are you a Carillion contractor? Are you going to work today? Contact us at haveyoursay@bbc.co.uk.
You can also contact us in the following ways: