Carillion: Not alone in hitting problems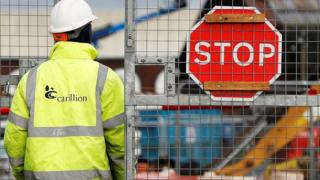 Lightning seems to strike the same place remarkably often in Britain's construction and support services sectors.
For some, Carillion's demise will seem like a bolt from the blue. But look back 20 years and you find a surprising number of companies which struck similar problems, although not always with fatal consequences.
Amey, Jarvis, Connaught, Rok, G4S, Balfour Beatty, Serco, Mitie - and many others - have had to own up to accounts that were, to use a euphemism, optimistic. Most lived to fight another day. Carillion did not.
Talk to executives in the industry and they easily find the common thread. Companies that are built up quickly through acquisitions - as Carillion was from the combination of parts of Tarmac, Wimpey, Mowlem and Alfred McAlpine - have an extra struggle first to understand then to integrate their disparate activities.
Industry experts spoken to by the BBC also think that Carillion overpaid for its acquisitions, leaving it with less financial fat to fall back on when the going got tough.
All the companies above were hurt by what turned out to be aggressive accounting.
When a construction company wins a contract, it cannot be precisely sure that it has bid the correct amount - there are always the vagaries of ground conditions, technical challenges, even weather.
Bid too keenly and you wipe out your profits. And there is danger in taking profits as you progress - this football stadium, for example, is half-built, so why should my company not book half the estimated profit from the deal this year?
A more prudent approach might be to wait for the final reckoning, and when the tricky final stages of the construction process have been sorted out. But shareholders and the board want results now, so waiting until the end of the contract might make you quite unpopular.
Culture
That same problem of revenue recognition, and the taking of profits too early, applies also to long-term services contracts.
When you sign a 10-year-deal to run a prison, do you take all the profits up front? You might, and your auditor, might, in the past, have let you. But the underlying truth is that you will almost certainly lose money in the first few years, and make all the profit - if it comes to that - in the final years of the deal, well after executive team that won the contract have moved on.
In a recent interview with the BBC, Leo Quinn, the chief executive of the construction and services group Balfour Beatty - brought in to sort out the mess after it had its own Carillion-style series of profit warnings and accounts restatements - said that in the end it all came down to culture.
If staff were given incentives to achieve sales growth regardless of the long-term consequences, then problems would be stored up through bad acquisitions and contracts bid at the wrong price. As Mr Quinn put it, culture is "what does it take to get me noticed around here?"
It will be interesting to see what investigators find out about what it took to get noticed at Carillion.