Davos: the inventions cutting plastic consumption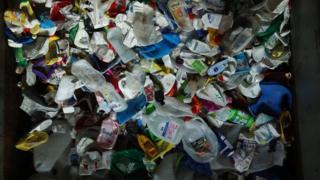 Scenes of plastic-sullied oceans on the BBC's Blue Planet II may have prompted consumers, governments and retailers to pledge new approaches to packaging.
But the challenge of how to fulfil those pledges remains unresolved.
On Tuesday the World Economic Forum in Davos will be presented with a list of five innovations in materials science that may be part of the answer.
That's according to the Ellen MacArthur Foundation, which is pursuing solutions to the scourge of plastic waste.
At the last annual gathering of the world's movers and shakers in the Swiss ski resort, former round-the-world yachtswoman Dame Ellen MacAurthur launched her New Plastics Initiative. It challenges innovators, engineers, businesses and policymakers to find ways of reducing our addiction to plastic.
The first £1m of award money was granted late last year to design innovations intended to reduce the 30% of unrecycled waste plastic that comes from small items such as bottle lids and food sachets. Winners included the creators of edible spice sachets made from seaweed and origami coffee cups that do not require plastic lids.
This year, with plastic pollution higher than ever on the agenda, her organisation, the Ellen MacArthur Foundation, has identified five projects developing new materials that could change the way we package our food. The five will share funding of a further £1m.
Dame Ellen said the innovations on the list offered a way to tackle "the root causes of the problem - not just the symptoms".
Among the innovations are ways to replace multi-layered packaging materials that perform a variety of tasks - such as keeping food dry, dark and moist - and which supermarkets say are indispensable in the battle against food waste.
Aronax Technologies in Spain has devised magnetic platelets that can be added to packaging materials to make them perform like airtight aluminium coatings that are commonly used to keep crisps dry and crunchy, or stop toothpaste from drying out.
They can be added to compostable and recyclable plastics and because they are magnetic could even be reclaimed during the recycling process and reused.
A polyethylene nano-engineered by scientists at the University of Pittsburgh can mimic properties of other materials including aluminium. That would mean packaging made from polyethylene that performs like a mixture of materials, but be much simpler to recycle.
Others on the winning list include projects to make coatings from food waste that are fully compostable, with the added benefit of keeping the food waste out of landfill.
The VTT Technical Research Centre in Finland has created a cellulose wrapper that looks like transparent plastic but can be made from wood, rice straw or sugar cane tops. Usually the drawback with cellulose is sensitivity to moisture, but VTT has come up with a cellulose film with superior barrier properties.
The Fraunhofer Institute for Silicate Research has also come with biodegradable coatings with powerful barrier properties that can be made from fruit residues and other waste materials.
Dame Ellen said the innovations were a starting point for shifting away from depending on plastics: "To get there will require new levels of commitment and collaboration from industry, governments, designers and startups. I hope these innovations will inspire even more progress, helping to build a system in which all plastic materials are reused, recycled or safely composted."
The French government has pledged to recycle all plastics by 2025 and 11 companies including L'Oreal, Mars, Evian, Coca-Cola, Unilever and Walmart have also vowed to work towards using 100% reusable, recyclable or compostable packaging by then.
Paul Polman, chief executive of Unilever, welcomed the commitments by other companies but said the consumer goods industry needed to "go much further, much faster" in cutting consumption of single-use plastics.