What could China do in a US trade war?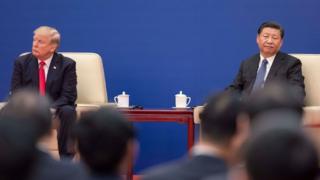 President Trump's backing for slapping tariffs on imports of washing machines and solar panels will hit China and South Korea hardest.
And it has opened up the prospect of some retaliation - especially from Beijing.
The hardline Chinese publication Global Times says "nothing good" would come out of a trade war with President Trump, and has warned that China could fight back.
There's lots at stake. The two countries did $578.6bn worth of trade in 2016.
And by the US government's own estimates that trade supports just under a million American jobs.
So what could China do? Well here are a few options:
1) File complaints to the World Trade Organisation
China says the US tariffs are bad for global trade and has already said that it will work with other WTO members to defend itself.
Of course there will be plenty in Washington who won't miss the irony of China - much-maligned for its own trade practices - complaining that it is being hard done to.
2) Limit US beef imports
Last May, the US and China signed a deal to allow, amongst other things, the resumption of US beef exports to China after 14 years.
But there are specific requirements from the Chinese that US beef companies need to adhere to.
Although trade has barely just begun, China could raise these health and safety standards and make life far more difficult for the US beef exporting businesses that are looking to capitalise on middle class Chinese consumers.
3) Tell Chinese customers not to buy American cars
China is the world's biggest passenger car market. By 2022 it will contribute to over half of the world's car growth.
China is also consistently among the top five export markets for US cars and car parts, so a directive from the government to stop buying American cars out of loyalty to the Chinese state would hurt US manufacturers.
It's not unheard of for Beijing to dictate how Chinese consumers spend their money.
Korean retailer Lotte Mart for example, suffered massive losses in China because of the Beijing-Seoul spat over a US anti-missile system.
4) Tell tourists to stop visiting the US
China is the world's leading outbound tourist market, with more than 130 million Chinese people travelling around the world each year - a number that just keeps rising.
They spend something like $260bn (£185.2bn) a year when they travel, and while the most popular Chinese tourist spots tend to be in Asia, the US has also benefited.
Chinese tourists are projected to spend $450bn on holidays and shopping overseas by 2025, so the US could lose out if Beijing says America is an unsavoury place to travel to.
5) Sell some US bonds
China owns more than a $1tn of US debt.
It has threatened to sell US Treasuries before, and many have worried that this level of debt could mean that Beijing has leverage over the US economy.
But the truth is even if China did sell US debt, it would most likely be picked up by other countries.
But will anything happen?
The reality is China doesn't want a trade spat to from escalate into a more damaging confrontation.
If a trade war between the two countries does escalate, it won't just be Beijing and the US losing out.
The wider Asian region could suffer too, simply because of how integrated global supply chains are.
But we might well be just days away from more tariffs - with President Trump to soon decide whether to slap extra duties on steel and aluminium imports. China is the world's largest producer of both.
Then there's the intellectual property theft investigation against China, or Section 301, the findings of which should be released soon.
Now, as I've said before, President Trump hasn't really been as hard on China as he said he would during his election campaign - partly because he needs Beijing onside to help push North Korea into giving up its aggressive nuclear strategy.
But with more pressure coming from the voters who elected him, the Republican base, and mid-terms this year - President Trump could decide that now's the time to finally push his 'America first' policy through.