Davos 2018: 'More to come' on US trade tariffs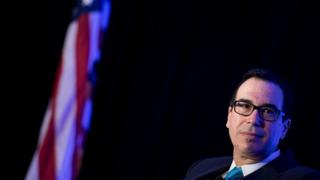 The US has warned that there is "more to come" on trade tariffs.
Treasury Secretary Steve Mnuchin - the first of the US delegation to arrive in Davos - said President Donald Trump was "determined to deal" with what he sees as unfair foreign competition.
His warning comes after the US imposed steep tariffs on imported washing machines and solar panels.
The tariffs, of up to 50%, prompted an outcry from China and South Korea, the primary targets of the measure.
Mr Mnuchin said the trade actions had been prompted by "inappropriate behaviours" by their trading counterparts.
US Commerce Secretary Wilbur Ross - speaking alongside Mr Mnuchin - denied the move was protectionist, saying it was simply trying to put a stop to trade violations.
"I don't think adhering to rules is protectionism," he said.
President Trump has already brushed off concerns that the new US tariffs will lead to a trade war.
But Mr Ross said the US was already in a trade war with "parties violating the rules and trying to take advantage".
"There's been a trade war in place for quite a while. The difference is, US troops are now coming to the ramparts," he added.
The warning comes just a day after confirmation that an Asia-Pacific trade pact that US President Donald Trump ditched last year is expected to be signed in March.
The Trans-Pacific Partnership (TPP) is one of the world's largest trade agreements, but Mr Mnuchin denied the US was no longer interested in trade deals.
"We are fans of bilateral trading agreements - we absolutely believe in free and fair trade and anyone who wants to do trade with us on a reciprocal basis is welcome to do so," he said.
Mr Mnuchin and Mr Ross are the first of the US delegation to arrive at the World Economic Forum in Davos.
On Thursday, President Trump is due to arrive alongside 10 members of the US cabinet as well as senior White House staff.
It's the largest US delegation to attend the annual gathering in the small Swiss mountain town.
Their decision to attend has surprised many, because the conference promoting globalisation and co-operation seems the very antithesis of President Trump's "America First" worldview.
But Mr Mnuchin said it was important to communicate with their counterparts.
"I don't think there's any inconsistencies about this.
"This is about am America First agenda, but America First does mean working with the rest of the world," he said.