McDonnell takes aim at "big four" accountancy firms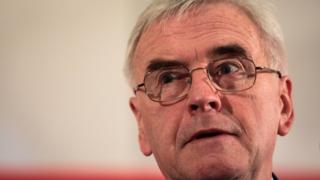 Labour's John McDonnell has called for a new "Hippocratic oath" at Britain's large accountancy firms, warning that they must work to maximise the amount of tax their clients pay.
Speaking at the World Economic Forum in Davos, the shadow chancellor said the so-called big four accountants were not doing enough to tackle tax avoidance.
He also warned that public anger over the issue was building.
But he paid tribute to businesses that paid their taxes.
Mr McDonnell, attending Davos for the first time, said there was a "sense of complacency" at the gathering and warned that the benefits of global growth were not being felt by all.
There was, he added, an "avalanche of discontent".
He reserved his harshest comments for accountancy firms, whom he said must change "their entire ethos" and rediscover their moral purpose.
'Bizarre schemes'
"I think we need a new Hippocratic oath for [the accountancy firms], where they sign up to being committed to tackling tax avoidance themselves, rather than coming up with all these bizarre schemes to enable that to happen," Mr McDonnell told the BBC.
"There is almost a monopoly, a cartel that's going on, there are so few of them that are dominating the sector," he added.
"If they don't act," he cautioned, "they will be open to real public opprobrium."
The big four accountancy firms - Deloitte, PwC, EY and KPMG - declined to comment when asked by the BBC for a response to Mr McDonnell's comments.
Reacting to Mr McDonnell's comments, Treasury minister Robert Jenrick said an extra £160bn has been raised since 2010, when the Conservative party regained office, by tackling tax evasion and avoidance.
"If John McDonnell was serious, he would back the anti-avoidance measures we are taking in the Budget that will raise an extra £4.8bn, instead of opposing them as Labour have done so far," he said.
'Need to deliver'
Mr McDonnell also had some strong words for the so-called Davos elites, especially those who talk about reducing inequality, but "haven't delivered".
"Labour is likely to go into government, so we are attending Davos, to come here with a straightforward warning," he said.
"You need to deliver, and when we get in to government we will make sure you do."