US blocks $600m coin offering by 'scam' bank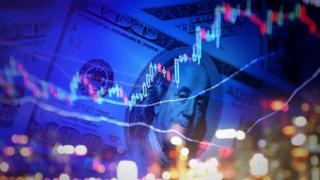 US regulators have frozen the assets of a company that was raising money by selling its own cryptocurrency, accusing it of fraud.
The Securities and Exchange Commission (SEC) said AriseBank failed to register its activity and falsely claimed it had purchased a US bank.
It also said Arise did not disclose the criminal background of key executives.
Arise has blamed the dispute on "confusion" over its activities and cryptocurrencies.
Arise, which described itself as the first decentralised banking platform for cryptocurrencies, started raising money for the company last year, through an offering of AriseCoin, its own digital currency.
Earlier this month, it claimed to have raised $600m (£425m) and successfully completed the purchase of a traditional US bank, with federally insured deposits. It said it expected the offering to exceed $1bn.
The SEC complaint said the bank in question was not federally insured, nor was the purchase complete.
It said it was filing the action to "halt an ongoing, fraudulent, and unregistered offering of securities and to protect investors who are being actively defrauded".
The SEC also said chief executive Jared Rice Sr is on probation for felony theft and tampering with government records.
Efforts to reach Arise executives were unsuccessful, but 29-year-old Mr Rice told radio interviewer Connie Willis that the firm would fight the action, blaming the raid on confusion.
"We have nothing to hide," said Mr Rice. "Everything that we're working on, we're very proud of."
Broader crackdown
The action against AriseBank extends warnings from regulators about initial coin offerings or ICOs, which are on the rise.
More than $3.5bn had been raised globally in the first 11 months of 2017, according to CoinDesk research site.
The practice has drawn scrutiny, as regulators in Singapore, Hong Kong and Canada and the UK have warned of risks.
China banned such fundraisers last autumn.
Last month, SEC Chair Jay Clayton said many offerings of coins or tokens appear to be securities by another name, and therefore subject to standard securities law.
He said he had directed the agency to "police this area vigorously".
That same day the SEC announced that California company Munchee had halted its coin offering.
The SEC said the Arise case is the first in which the agency has appointed a receiver to take over the firm's assets.
"We sought emergency relief to prevent investors from being victimised by what we allege to be an outright scam," Stephanie Avakian, co-director of the SEC's enforcement division, said in a statement.