Will a market fall turn into a rout?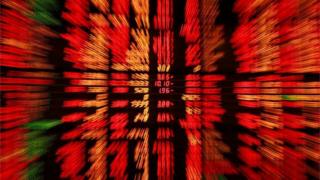 To the great synchronisation - stronger global growth returning to all the major economic engines of the world - add the great normalisation.
The softness of markets over the last few days is down to one thing.
Monetary policy is starting its long journey away from the trillions of pounds of stimulus pumped into the system to keep the economic ship from the rocks.
Now, shareholders are beginning to wonder how much of their investments are in companies with strong fundamentals.
And how much is simply holding up an asset bubble - frothy prices led ever higher in an era of ultra low interest rates and cheap money.
Fingers are hovering over the "sell" button.
And once investors start looking at their portfolio and selling out of the froth, automatic algorithmic trading tends to "chase the dip".
Central banks led by the Federal Reserve have been gently tightening - withdrawing stimulus - as concerns grow that inflation is returning.
It is the first time there has been such a synchronisation in major central bank policy since the financial crisis.
When the Federal Reserve spoke of "tapering" in 2014, the Bank of Japan was in full monetary easing mode.
When the Fed raised interest rates in December 2015, the European Central Bank cut them further into negative territory.
Now the Fed is signalling further interest rate rises.
The ECB's quantitative easing programme - the purchasing of bonds - is being reduced. And the Bank of Japan has also slowed its purchasing of long dated bonds.
The next move by the Bank of England on interest rates is likely to be up.
Make no mistake - we still have monetary policy broadly set for recession despite global economic growth being at its most positive since the financial crisis.
Globally, the economic fundamentals are strong and the market falls we have seen come after a record long run of equity highs.
But be prepared for more volatility ahead as markets catch up with the fact that the era of endless central bank support is coming, slowly but surely, to an end.