Gambling Commission condemns outfits at trade show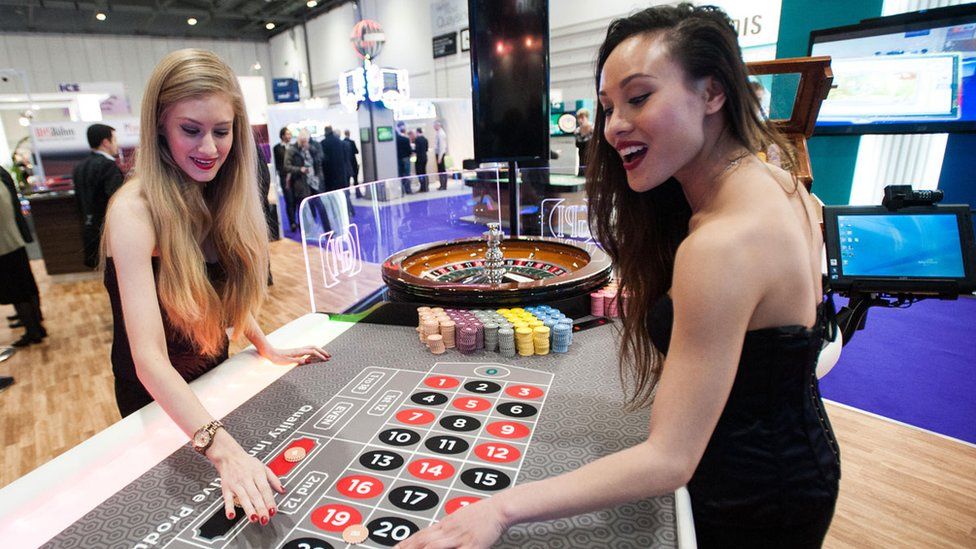 Scantily clad women are "unacceptable" at a betting industry conference, Britain's gambling regulator has said.
Sarah Harrison told the BBC that some women working at the ICE Totally Gaming event were wearing "little more than swimsuits", while men wore smart suits.
The chief executive of the Gambling Commission said the body could boycott future ICE Total Gaming events.
But the event's manager said the complaint was directed at a "very small" number of firms taking part.
Kate Chambers, managing director of ICE London, also said the show has been encouraging exhibitors to represent women more respectfully.
The three-day ICE Total Gaming event, held at London's ExCel centre, is an international showcase for the industry, attended by betting companies, technology providers, and casino operators.
One of them told the newspaper she was paid £100 a day to work on a stand. "'Somebody asked me yesterday how much I would charge', indicating that the request referred to sex," the newspaper reported.
Earlier, Ms Harrison told BBC's Radio 4's Today programme of her dismay at seeing a gender disparity at the show, with some women on exhibition stalls doing promotional work in revealing clothing.
"The men were wearing smart suits and women were being asked to wear not much more than swimsuits. That's totally unacceptable; it's not reflective of the modern economy," she said.
"This isn't about political correctness. It's about good regulation and good governance, because businesses that have a more diverse workforce are more likely to make better decisions. And that's critical from a regulator's point of view."
Skip twitter post by Roman Demidov
You can meet Fire Lotto team TODAY on ICE Totally Gaming 2018 (London, UK) Botth N1-531 and
From 7th till 10th of February London Affiliate Conference (London, UK) Booth C-28 pic.twitter.com/ciKjvLZ3Ek

— Roman Demidov (@RomanPlatinovy) February 7, 2018
The BBC is not responsible for the content of external sites.
End of twitter post by Roman Demidov
She added: "Given our focus is on fairer and safer gambling, businesses that look more like their customers are much more likely to be able to put in place the protections and the safeguards that we are really focussed on."
Ms Harrison, who is leaving the Gambling Commission for a role at the Department for Business, Energy and Industrial Strategy, spoke at the ICE event earlier this week.
The occasion was, she said in her speech, "an opportunity to highlight and challenge what is a significant stain on this industry's reputation" - a lack of diversity.
She said Britain's highest paid boss was a woman - Denise Coates chief executive at betting firm Bet365.
"Yet from walking around the exhibition you wouldn't know this," she said.
"Any future participation by the Gambling Commission in events like this will depend on there being change."
Last week, the Professional Darts Corporation ended its long-standing tradition of employing women to walk with male players to the stage.
Formula One has also ended 'grid girls' - the models who stand next to drivers before races.