Full report into RBS must be published next week say MPs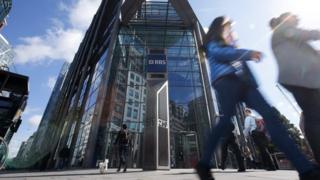 The full report into how Royal Bank of Scotland's GRG unit mistreated small businesses must be published by the end of next week, MPs have said.
GRG was supposed to help struggling small firms turn around their fortunes.
But a report by the Financial Conduct Authority (FCA), leaked to the BBC last year, said the unit penalised them, pushing many into bankruptcy.
The FCA has only released a summary so far, which Labour MP Clive Lewis has described as a "sanitised" version.
The committee now says the full report must be published or submitted to the committee by 16 February.
In a letter to the FCA Nicky Morgan, chair of the Treasury Select Committee said: "The committee considers it unreasonable that, four years since the review was commissioned, and 18 months since the FCA received the final report, such slow progress has been made towards meeting its objective... of placing the report in the public domain."
An FCA spokesperson said it had received the letter from the Treasury committee and would respond.
Between 2008 and 2013 Royal Bank of Scotland put 16,000 business customers into its GRG division, with the message that the unit was there to help them.
However, the inquiry by the FCA found some "inappropriate action" - such as interest charges being raised or unnecessary fees added - was experienced by 92% of viable firms seen by GRG.
The decision to insist on the release of the FCA's report next week follows the appearance of Andrew Bailey, chief executive of the FCA before the Treasury committee on Wednesday.
Mr Bailey told the committee that the regulator would publish the report once its investigation into RBS had been completed, and those named in the report had had the opportunity to respond to any criticisms.
The investigation element was largely complete. "I would like to think we are talking weeks," Bailey said.for a longer time period before publication.
Last week RBS boss Ross McEwan told MPs the bank would not object to the report's publication.
'Lost control'
A summary of the report was published in November 2016
On Tuesday, Labour MP Mr Lewis, who said he had a copy of the full report, told MPs in the House of Commons that it was "clear the summary of the report the FCA has published is what I would politely describe as a sanitised version".
Ms Morgan said full publication was overdue.
"A version of the report is in the hands of third parties, it has been selectively reported by the media," she said, adding that the FCA had "lost control over the timing or content of further public disclosures" of the report.
Britain's Federation of Small Businesses said "victims have waited months" for the report to be published, with hundreds of former small business owners still yet to receive redress from RBS.
RBS has set aside £400m to cover claims relating to GRG.