Wynn Resorts board faces lawsuit over misconduct claims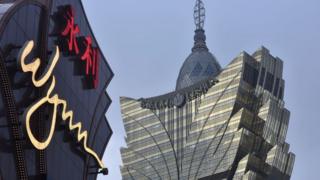 The board of Wynn Resorts is being sued by shareholders over claims it knew of sexual misconduct allegations against former chief executive Steve Wynn for years and failed to investigate.
The lawsuit was filed in the US by Norfolk County Retirement System, a Wynn Resorts investor.
It follows Mr Wynn's resignation from the company earlier this week amid accusations of misconduct.
Mr Wynn has denied any wrongdoing and called the allegations "preposterous".
A report last month in the Wall Street Journal alleged the 76-year-old billionaire harassed massage therapists and forced one staff member to have sex with him.
The lawsuit filed by shareholders accuses members of the Wynn Resorts board of "turning a blind eye and disregarding a sustained pattern of sexual harassment and egregious misconduct by Mr Wynn," according to a statement from the law firm.
Wynn Resorts was not immediately available for comment when contacted by the BBC.
Mr Wynn's resignation from the firm he co-founded has made him one of the biggest names in the business world to quit over sexual misconduct allegations. He also resigned as finance chair of the Republican National Committee (RNC).
Shares of Wynn Resorts, which owns and operates casino complexes including Wynn Macau, Wynn and Encore Las Vegas, have dropped nearly 20% since the misconduct reports emerged last month.
But Wynn Macau shares shot up more than 7% on Thursday, one day after Mr Wynn's resignation.