Scam gang sentenced after BBC probe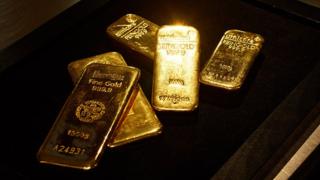 Five men who helped launder more than £1.2m stolen by cold-callers who phoned a BBC reporter have been sentenced.
City of London Police launched their own probe into the "boiler room" gold scam in 2013 after an investigation by BBC Radio 4's You and Yours.
Fraud reporter Shari Vahl met the scammers who were posing as a company offering investments in gold.
Police have praised her "endeavour and hard work", which helped them uncover the full extent of the fraud.
The men, who helped launder the money stolen by the scammers, were given sentences ranging from two-and-a-half years in prison to 12 months' community service.
They had all opened bank accounts to launder money received from victims.
'Guaranteed returns'
Many of the cold calls came from a company called Demmore Ltd, not to be confused with companies of a similar name.
The firm claimed to be based in Hatton Garden in London and offered huge profits through leasing gold to corporate clients.
But when Demmore Ltd called investigative journalist Shari Vahl, who has reported on fraud for 15 years, she recognised the call as a scam immediately.
She then secretly recorded his conversations with her.
"It is really a thriving market. It outperforms most bank-based investments and underperforming stocks and shares," he told Vahl.
He added: "I can guarantee you 15% returns in 60 days."
Claiming she had money to invest, Vahl arranged to meet one of the "brokers", who called himself "James Harper".
He claimed Boots and Whole Foods were business clients, but both companies said they had nothing to do with Demmore.
He even boasted of operating from the trading floor of the Thomson Reuters building at Canary Wharf, but Thomson Reuters said it had no knowledge of the company and that they did not have a trading floor.
'Royally scammed'
Police believe that the boiler rooms targeted about 180 victims, many of them elderly.
The scammers cold-called them, using personal data from other criminals and information purchased from companies.
David, a retired teacher from Greater Manchester, was convinced by the scammers.
He handed over £41,000 to the gang: "Because I'd like to leave something for my grandchildren, I was very tempted. It all looked OK," he said.
He added that he felt terrible shame.
"How am I going to repair the damage?" he said.
"I'm supposed to be intelligent but I have been royally scammed. I have been very foolish," he told You and Yours.
'Serial fraudster'
Police believe that serial fraudster Paul Ward was the brains behind the boiler room operation.
He is currently serving 13 years in prison after being repatriated to the UK from Northern Cyprus.
Det Con Barry Ryan, who led the investigation for the City of London Police's Fraud Squad, praised the BBC's investigation.
"Thanks to the endeavour and hard work of the journalist from the BBC, who initially brought this case to our attention, officers in the Fraud Squad were able to uncover the full extent of this fraud and ensure justice was served," he said.
"This should act as a warning to any other people who are thinking of allowing their account to be used for criminal activity in order to make some extra money. Money laundering is a serious offence and one which could see you go to jail."
You and Yours is on BBC Radio 4 weekdays 12:15-13:00 GMT. Listen online or download the programme podcast.