UK trade deficit widens in December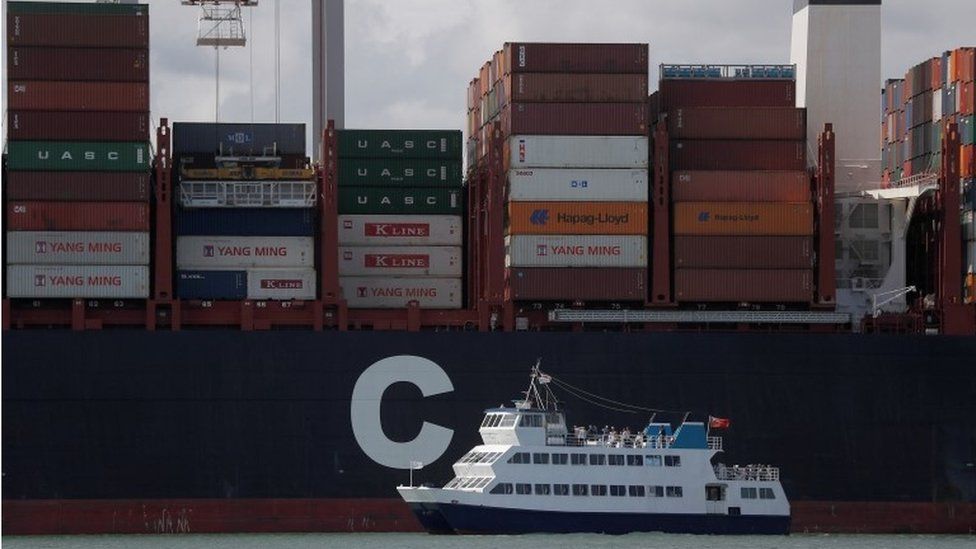 A rise in oil prices and higher imports contributed to a widening of the UK's goods trade deficit in December.
Industrial output fell by 1.3% in December from the month before.
However, the ONS said UK's manufacturing sector, which is part of overall industrial output, saw output rise by 0.3% on the month, marking the eighth consecutive month of growth in the sector - the longest run in almost 30 years.
The total trade deficit - which covers goods and services - widened by £1.2bn to £4.9bn between November and December.
Senior ONS statistician Ole Black said: "The headline trade deficit widened in the fourth quarter with the impact of increased oil imports accentuated by rising crude prices."
"Construction was broadly flat across 2017, thanks to a strong December. However, house building and infrastructure were the only bright spots with all other areas of the industry falling back throughout the year."
Trade contribution 'limited'
Suren Thiru, head of economics at the British Chambers of Commerce (BCC), said: "The sharp deterioration in the UK's net trade position in December was disappointing and means that trade is likely to have been a drag on UK growth in the final quarter of the year."
The BCC said people were continuing to buy imports despite the post-Brexit fall in the value of the pound, which has made goods bought in from abroad more expensive.
"While many exporters are benefiting from stronger growth in key trading markets, imports continue to grow at a solid pace, with businesses continuing to report little in the way of import substitution despite their high cost.
"If this trend continues as we expect, the contribution of net trade to UK GDP growth over the near term is likely to be limited at best."
The latest official data is not expected to alter the views expressed by the Bank of England on Thursday that UK growth is improving and may lead to the need for a rise in interest rates relatively soon.
Samuel Tombs, chief UK economist at Pantheon Macroeconomics, said industrial production for the final quarter of 2017 was slightly lower than the 0.6% rise incorporated in the preliminary estimate of GDP.
However, he added: "Taken alongside December's stronger-than-estimated construction data, today's releases do not imply that that quarter-on-quarter GDP growth in Q4 will be revised down from 0.5%."