Tesla boss in line for mega-pay deal
By Natalie Sherman
Business reporter, New York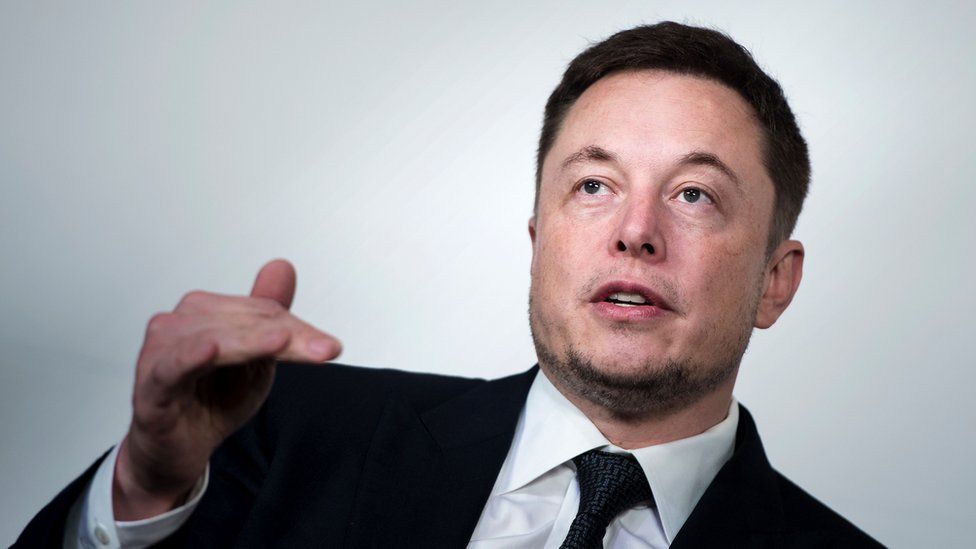 Electric carmaker Tesla, facing pressure on a number of fronts, is asking shareholders for a show of support for chief executive Elon Musk.
The firm has called a special meeting this month for investors to vote on a 10-year compensation plan for Mr Musk.
Under the plan, Mr Musk could receive stock awards worth an estimated $2.6bn - among the largest in US history.
The grants would only be distributed if the firm, which has made consistent losses, hits certain milestones.
Major holders of Tesla stock, including investment firms Baillie Gifford and T Rowe Price, have said they intend to support the pay plan, providing a vote of confidence.
But shareholder advisory groups have cautioned against the proposal, saying it is too generous.
The vote comes as Tesla confronts several years of mounting questions about its operations.
Investors are impatient about delays in the production of Model 3 cars, a new model that is supposed to target a more mass-market clientele.
Tesla has said the claims are without merit and its high public profile makes it a target. Several of the shareholder lawsuits have been dismissed.
But financial analysts are sounding warnings that the firm is losing ground against competitors. Share prices have sunk since June, though they remain about 25% higher than a year ago.
Surveys suggest the public remains enthusiastic about Tesla, though the issues may be having an effect.
A Harris Poll ranked the company's reputation third out of 100 American firms. But recent analysis by Netbase, which tracks social media posts, found Tesla compared poorly to other luxury brands.
"There's no question that the Tesla brand is a bit under fire," says Tim Calkins, a marketing professor at Northwestern University's Kellogg School of Management.
Belief in Tesla - and Mr Musk - has helped the firm to fend off naysayers so far.
But Mr Calkins warns the steady drumbeat of negative press threatens to erode that faith, just as the firm is trying to win over a wider audience.
"They've raised expectations of everybody really, and when you fall short of expectations, people forgive you for a while, if you're a brand they like," Mr Calkins says.
"If you're Elon Musk, what you're counting on is that the future is so compelling that people are going to give you time."
For years, Mr Musk has had a seemingly magical touch, defying doubts about his endeavours.
As chief executive of Tesla since 2008, he has won billions from investors and governments, leading the company as it has grown to employ almost 40,000 people.
The stock market values Tesla at about $55bn - more than Ford and General Motors - even though Tesla made only about 105,000 cars last year, less than 2% of Ford's total.
Steve Westly, founder of the Westly Group, a venture fund, was an early Tesla backer and sat on its board. He credits Tesla with nudging the auto industry toward electric vehicles.
"By any standard, Elon Musk has done an extraordinary job," he says. "While he may have missed the boat or been imperfect on some things, on balance you just have to be impressed with what this guy has accomplished."
Others take a starkly different view, pointing to Tesla's consistent losses, more than $10bn in debt and repeated failure to meet manufacturing forecasts.
"To date, the company has not actually been very successful if you judge it by any normal metrics," says Bradford Cornell, a professor of financial economics at CalTech and president of SMBP LLC, a hedge fund, who believes the stock is overpriced.
Tesla supporters say critics overlook investments the firm is making toward its future. On a recent call with financial analysts, Mr Musk professed to be "cautiously optimistic" that Tesla would start to turn a profit in 2018.
But concerns such as Mr Cornell's have made Tesla an attractive target for short-sellers, who are wagering the stock will fall.
More bets are now levelled against Tesla than almost any other company in the US - and investors added to their positions last year even as the stock continued to rise, says Ihor Dusaniwsky, head of predictive analytics for S3 Partners, a financial analytics firm that tracks short interest.
"It's really a one-of-a-kind stock in that sense," he says.
In an interview with Rolling Stone last year, Mr Musk described short-sellers as "jerks who want us to die", blaming them for a campaign to amplify negative rumours.
Criticism of the pay proposal has focused primarily on its cost, not the firm's performance.
The plan conditions the first set of awards on the firm roughly doubling its performance against metrics that include market capitalisation. For Mr Musk to receive the full grant, the firm would have to become a roughly $650bn company.
John Roe, head of analytics for Institutional Shareholder Services, described the goals as "rigorous".
"They're trying to do the right thing with these new grants, or at least establish the right message that Musk is going to be aligned with shareholders," he says.
But he also points out Mr Musk - whose net worth Forbes estimates at more than $20bn, much of it in Tesla stock - already has a lot riding on Tesla. He owns about 22% of the company, which could rise closer to 30% under the proposal.
Tesla has said the performance targets tie Mr Musk's interests to shareholders, while offering an award "commensurate with the difficulty of achieving" the goals.
Victor Li, executive vice president for governance advisory at Kingsdale Advisors, says if the vote on pay goes Tesla's way, that will strengthen Mr Musk's mandate.
"Investors - they are betting on him," he says.