Aldi tops supermarket satisfaction survey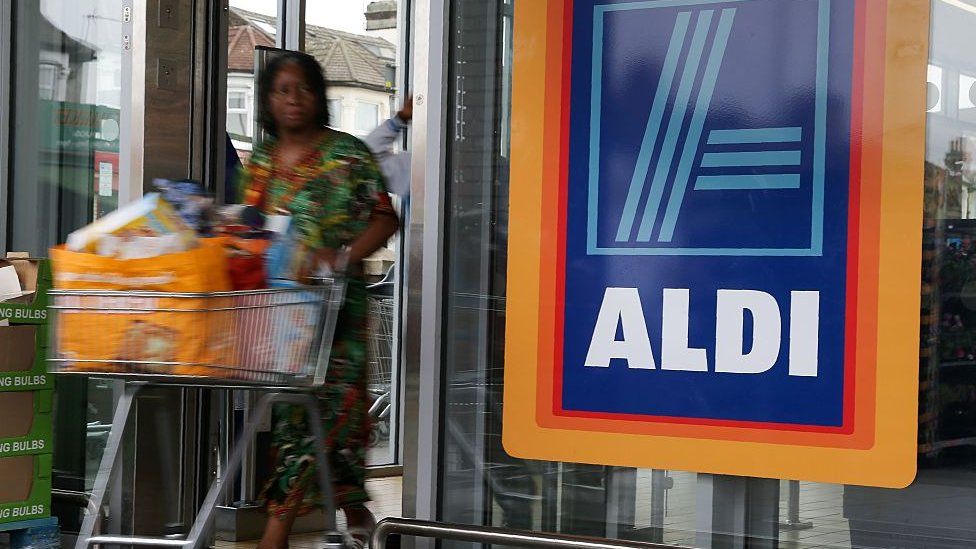 Aldi has been rated the UK's best supermarket, nudging previously top-ranked Waitrose down to fourth place.
Customers criticised Aldi stores for being "untidy" and for a lack of staff availability, but rated them highly for offering value for money, according to consumer group Which?.
Marks and Spencer was second, winning marks for store appearance and product quality. Lidl ranked third.
The large supermarkets fared worst, with Sainsbury's ranked last of nine.
The survey, conducted last October, asked customers to rate their supermarket shopping experiences in the past six months. The chains are scored on customer satisfaction and whether they would recommend the store to a friend.
Waitrose, Tesco, Morrisons and Sainsbury's lost marks over value-for-money compared to the discount chains.
Which? said respondents praised the ease of finding items on shelves at Aldi.
But both Lidl and Aldi scored poorly for queuing time, staff availability and for the range of products on offer. But they were marked up for the quality of their fresh and own-label products.
How customers rated their supermarket
Aldi 74%
Marks and Spencer 73%
Lidl 69%
Waitrose 68%
Iceland 65%
Tesco 64%
Asda 63%
Morrisons 63%
Sainsbury's 62%
While Aldi accounts for only 7% of the UK grocery market and Lidl 5%, the discount chains have seen strong sales growth over the last few years.
"With food costs rising it seems as though shoppers have felt the pinch and are voting with their feet and wallets," said Alex Neill, managing director of Which? home products and services.
"Aldi and Lidl have won over their customers with value for money, knocking Waitrose off the top spot."
Newspaper reports suggest Tesco is considering launching its own budget supermarket chain.
The Sunday Times reported that the country's largest supermarket has "secret plans" to take on the discounters at their own game, by opening stores offering a limited range of own-brand products.
A spokesperson Tesco declined to comment.
The supermarkets were also rated for their online services. Iceland retained the top ranking for the third year running, but shared the spot with Ocado for the first time.
Asda remained at the bottom of the table for online deliveries where it has been for more than a decade.
Amazon Fresh, which only launched in 2016 and is only available in the south east of England, came in fifth position.