Price cap on energy bills urgently needed, says committee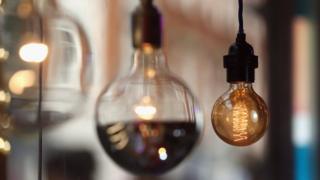 The government's planned cap on energy bills should be introduced urgently, to stop customers from being overcharged, a report from MPs says.
Competition was not working and had failed to deliver fair prices for consumers, a select committee said.
The committee said it was "underwhelmed by the feeble steps" taken by energy companies to avoid government action.
The cap should be temporary and fixed at an "absolute" level, rather than set relative to other tariffs.
Legislation should be passed before the summer recess, the report suggested, which should allow the cap to be in place before the end of the year.
The Business, Energy and Industrial Strategy Committee has been examining the government's draft bill to cap energy tariffs, following a commitment made last year by Theresa May.
"The Big Six energy companies might whine and wail about the introduction of a price cap," said Rachel Reeves, the committee's chairwoman.
"But they've been overcharging their customers on default and standard variable tariffs for years and their recent feeble efforts to move consumers off these tariffs has only served to highlight the need for this intervention."
The report said the larger energy companies had "brought this policy intervention upon themselves by raising their prices in 2017 and by failing to take effective action against the overcharging of their customers".
The regulator Ofgem was also criticised for being "too slow and reluctant" to use its powers to protect the interests of customers.
'Excessive prices'
The MPs' report said 12 million customers "stuck on poor-value" standard variable and default tariffs were paying up to £300 a year more their energy than other people.
Standard Variable Tariffs (SVTs) are the most expensive product in the energy market, and customers have been urged to look for cheaper fixed-price deals.
But the report said consumers should not be penalised if they did not shop around.
Five million of the UK's most vulnerable households, many of whom pay using pre-payment meters, already have their energy bills capped. But with the cost of producing energy expected to rise in the Spring those households were recently told they should expect a rise in their energy bills.
An Ofgem spokesperson said it was pressing ahead with plans to protect energy consumers in expectation of the new legislation.
The regulator said "innovative solutions" such as its scheme to trial "collective switching" which would allow consumers to group together to gain better deals, would help households reduce their energy bills Ofgem said.
The Business Secretary, Greg Clark, said the report confirmed that " the energy market isn't working for customers stuck on rip-off tariffs".
He said that the government's plan to introduce a price cap would protect consumers from high energy bills.
Competition concerns
MPs backed the government's plan for the cap on standard variable tariffs to be set at an "absolute" or fixed level, rather than be "relative" or set at a maximum difference to other fixed tariffs available to customers.
They said a relative cap might create a perverse incentive for suppliers to increase their lowest prices to maintain overall profits.
Richard Neudegg, head of regulation at the price comparison and switching service uSwitch said any price cap might "do more harm than good" if it undermined competition between energy companies.
"A widespread price cap could lull energy customers into a false sense of security if they think they are protected by it," he said.
Energy UK, a body representing the industry said more customers were already switching suppliers to get better deals and that the cap could hamper competition.
"It's also important that the cap accurately reflects suppliers' costs, most of which are out of their direct control," said Energy UK's chief executive Lawrence Slade.