Network Rail to put new projects on hold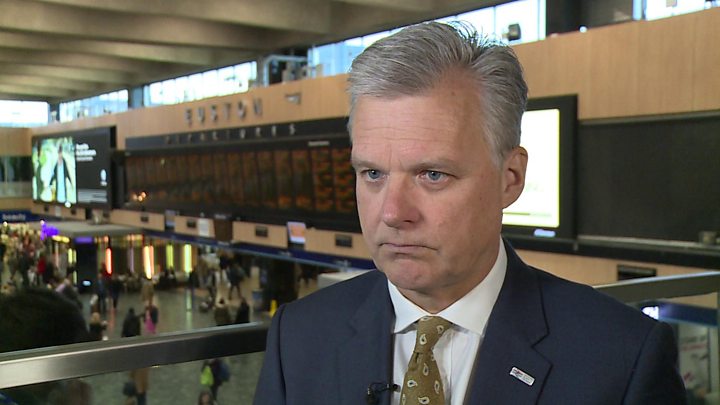 Network Rail is to move away from big projects in its next five-year funding period in favour of spending its cash on maintaining its current network.
Britain's rail and track operator has published its plan from 2019 to 2024.
The company could spend up to £47bn, with the amount set aside for new schemes falling by 33% and the total for current improvements rising by 25%.
It also hopes to increase the number of female employees by 50%, or more than 3,000, to about 9,500.
Network Rail currently employs 38,000 people.
'More ambitious'
Chief executive Mark Carne told the BBC that the new funding period would be "more focused on the day-to-day operations".
He said: "The last five years has been about huge projects, like Thameslink, Crossrail, Great Western electrification and Edinburgh-Glasgow electrification. The next control period is slightly different."
Mr Carne denied the move was a backwards step, adding: "I don't think it's less ambitious at all, I think it's in a way more ambitious.
"We have 20,000 miles of track and 4,500,000 people every day who depend on the railway and I think it should be our primary responsibility to make sure that we run that network reliably and efficiently for them."
A total of £18.5bn will go into the operation and maintenance side of the business and a similar amount will be allocated for renewing and replacing old infrastructure like signalling systems.
There is £10.1bn set aside for new projects, with most of that likely to go on improving the line between Manchester and Leeds.
That would probably go on upgrading existing tunnels, bridges and lines rather than a new Northern Powerhouse Railway.
The previous plan was called the biggest investment in Britain's railways since the Victorian era, with large-scale electrification supposed to reduce the cost of trains, increase reliability and reduce carbon emissions.
However, projects around the country have been shelved and Mr Carne added: "We've discovered the cost of electrification of the network is very expensive. It's very difficult to do because we have so little time to intervene and work on the network at night. So it's cost more to do that. In the meantime the trains are getting better."
---
Analysis: Victoria Fritz, BBC transport correspondent
At first it was a footnote.
Four years on, the boss of Network Rail, Mark Carne, may regret calling an accountancy change statistical.
Transferring Network Rail's debt to the national balance sheet exposed its reliance on the money markets to cover shortfalls in funding.
With the figleaf gone, the appetite to embark on big trophy projects has diminished.
For now, Network Rail is going back to the bread and butter business of maintaining and renewing what it already owns. With greater funding comes greater scrutiny.
A recently-launched body, the System Operator, sits within Network Rail to assess the feasibility of rail franchises as they come up for renewal.
It is likely to have a busy few years ahead.
---
Mr Carne is stepping down from his £880,000 a year post later in 2018 and said: "By the time I leave I will have been in the job for four-and-a-half years. To do more than one five-year control period would be too much."
He welcomed the idea that he could be replaced by a woman.
"I think it would be great," he said. "We are hugely focused on increasing gender diversity and all forms of diversity in the rail industry and wouldn't it be wonderful to have a woman chief executive of the company?
"In the last four years alone, we have increased the number of women working in our company by 42% so we're really focused on this.
"I know, and I see it every day, that gender diverse teams just perform better than homogenous teams, so this is about great business performance as well as the moral and ethical responsibility to be fair."