Chipotle names new boss in turnaround bid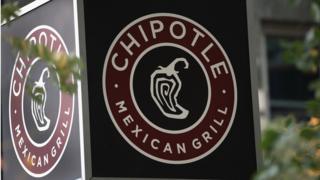 Chipotle Mexican Grill has named a new chief executive as it seeks a turnaround after a series of food safety incidents.
The burrito chain said Brian Niccol, who was most recently chief executive at Taco Bell, will start in the new role on 5 March.
Chipotle founder Steve Ells, who served as its chief executive, will become executive chairman.
Shares in Chipotle surged more than 11% in after-hours trading in New York.
Mr Ells founded Chipotle in 1993 in Colorado and guided the company as it expanded to about 2,400 restaurants, including 37 outside the US.
The firm rode a surge of interest in more upmarket fast food restaurants, but stumbled in recent years as it faced competition from newer chains and a series of food safety incidents that hurt the firm's reputation.
Last year, Chipotle also suffered a security breach involving customer payment data, while new menu additions did not entice diners as it had hoped.
Sales in 2017 reached almost $4.5bn, after declining the prior year, but profits remained far shy of their previous levels.
In November, Chipotle said it was searching for a new chief executive.
Mr Niccol started at Yum! Brands' Taco Bell in 2011, becoming chief executive of the 7,000-restaurant chain in 2015.
In its announcement, Chipotle cited Mr Niccol's experience with digital technology, restaurant operations and branding.
Mr Ells said the board is confident that he will "make the bold moves needed to improve operations and take the company to the next level, all while remaining true to our purpose and the values that are essential to our customers."