Lotte shares dive after chairman is jailed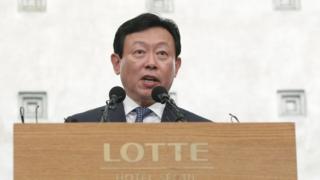 Shares in South Korean giant Lotte fell sharply after the surprise jailing of the conglomerate's chairman for bribery.
Shin Dong-bin was sentenced to two-and-a-half years in prison for his part in a corruption scandal that has shaken the country.
Investors sent Lotte Group's share price down 7% and Lotte Shopping down by 5.5%.
Shin had been widely expected to escape with a suspended sentence.
His lawyers said that he would appeal against the conviction and sentence, but warned the process would take months.
Shin was found guilty of offering billions in bribes to Choi Soon-sil, a friend and adviser to former president Park Geun-hye.
"His act crushed the hopes and faith of the community and the people. Giving bribes hurts the fairness of society," said presiding judge Kim Se-yun.
Separately on Tuesday, Choi was sentenced to 20 years in jail for corruption, influence-peddling and abuse of power.
The massive corruption scandal led to the impeachment of Ms Park, the country's first female president.
'In flux'
In December, Shin had been found guilty of a breach of trust and embezzlement in a different case, but was given a suspended sentence, leaving him free to run the group.
In that hearing, a court sentenced Shin's father, the 95-year-old Lotte Group founder Shin Kyuk-ho, to four years in jail.
Analysts said there was now concern over leadership at the country's fifth-largest conglomerate.
"Lotte Group is currently in flux," said Park Ju-gun, head of research firm CEO Score.
"Its businesses are mainly domestic. Shin has attempted to expand Lotte overseas by growing its chemical business and retail presence in Asia, but that is expected to grind to a halt - at least until the appeals ruling,"
The group generates around 30% of its sales from China, but businesses there have been harmed by a political spat between Beijing and Seoul over South Korea's installation of a US missile defence system. Around 80% of its stores have been shut in China as part of the backlash.
At home, Lotte's duty free operations rely heavily on Chinese tourists but it has been under pressure following a crackdown on tour groups from China travelling to the South Korea.
Shin Kyuk-ho founded the Lotte group in the 1940s and built it into a sprawling giant that today has dozens of units focused on food, retail and hotels in South Korea and Japan.
Lotte is just one of the country's influential family firms, or chaebols, caught up in the corruption scandal.
Samsung's vice-president Lee Jae-yong had also been jailed for making donations to Choi for political influence, but he was freed earlier this month.