GKN to sell off assets and return £2.5bn to shareholders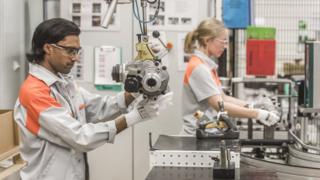 Engineering giant GKN says it will sell off non-core parts of its business and return £2.5bn in cash to its shareholders over the next three years.
The plans are part of its defence against a £7.4bn hostile takeover bid from Melrose Industries.
GKN's new strategy and transformation plan includes the sale of various businesses over the next 12-18 months.
Melrose said the plan was "long on adjectives and promises but desperately short on detail".
Last month, GKN rejected the bid from Melrose, saying it "fundamentally undervalued" the firm.
GKN chief executive Anne Stevens said: "The new strategy brings clarity, accountability and focus to GKN's world class businesses and will allow the group to attain world class financial performance."
"Too often we pursued growth at the expense of returns, this will no longer be the case. The new strategy brings discipline, both financial and operational."
However Melrose has argued that it could "deliver significantly greater benefits" to GKN's shareholders than the current management team.
GKN rejects £7.4bn hostile takeover bid
Engineering giant GKN rejects £7bn bid
GKN makes parts for the Boeing 737 jet and Black Hawk helicopter, as well as components for Volkswagen and Ford cars.
Last month, it said it would split the aerospace an automotive divisions into separate companies.
Outlining its transformation plan, it said "operational separation" had already begun and the "formal" separation would take place "when it maximises shareholder value".
'Significant cash'
Last year, lower profit margins and cash generation prompted GKN to conduct a wide-ranging review of its business. The company also warned on profits after uncovering problems at its aerospace division.
In January, it said a new two-year strategy called Project Boost would significantly increase cash flow by cutting costs and expenditure, along with tighter pricing control.
"This strategy is expected to generate significant cash for shareholders in the short term and meaningful sustainable cash flows over the mid to long term," said Ms Stevens.
In response, Melrose said GKN's document was "long on adjectives and promises but desperately short on detail".
It said GKN's plan to return £2.5bn over the next three years compared with "an immediate £1.4bn in cash and further cash payments in the medium term" under the Melrose proposals.
Chairman Christopher Miller said: "Today's document is effectively a 'jam tomorrow' and 'trust me' plea from a management team with a limited track record of delivering value for shareholders.
Both GKN and Melrose saw their shares rise following publication of the turnaround plan.