Carillion: Canadian firm BGIS seeks facilities contracts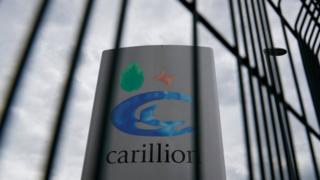 Canadian firm BGIS is in talks to take on former Carillion facilities management contracts.
BGIS said that more than 2,500 Carillion staff could be transferred to its team as part of the deal.
It wants to take on hospital, education, justice, transport and emergency services contracts from the collapsed outsourcing giant.
The BBC understands the talks are at an advanced stage, but it is unclear how much the BGIS deal is worth.
Carillion's liquidation last month left £900m debt, a £590m pension deficit, and hundreds of millions of pounds in unfinished public contracts in its wake.
BGIS chief executive Gord Hicks said: "This deal provides continuity of services for a large number of customers providing critical infrastructure within the UK market.
"Our team is looking forward to engaging both customers and employees in the days ahead to effect the transaction and ensure a smooth transition."
Gail Cartmail, assistant general secretary of the Unite union, said: "Of course the saving of 2500 jobs has to be welcomed. Workers who have lived with weeks of uncertainty will breathe a sigh of relief.
"We will look to meet immediately with BGIS to ensure that workers are not being transferred to lesser contracts and lesser pay."
However, she said there were still "serious issues" with outsourcing, especially in the public sector.
"Cut-price contracts, low wages, insecure working and boardroom behaviour more usually seen in a casino. These should have no place in our schools, hospitals and services," she said.
Carillion managed schools and prisons facilities and was involved in major public projects such as the HS2 high-speed rail line.
PwC is handling Carillion's liquidation, which has so far seen nearly 1,000 jobs lost out of the previous directly-employed workforce of 18,000.
Its problems stemmed in part from a string of risky contracts which were ultimately unprofitable.
BGIS, a subsidiary of Brookfield Business Partners, has its headquarters in Toronto.
It provides what it calls "integrated facility management services" and employs 7,000 people in North America, Europe, the Middle East, Australia, New Zealand and Asia.