China demands clampdown on 'vulgar' quiz apps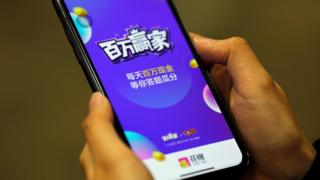 China has called for a clampdown on online quiz shows which have surged in popularity in recent months.
The country's media and publication regulator said there was "vulgar and tawdry" content in some of the quizzes.
Companies should avoid promoting extravagance or sensationalism and focus on spreading "healthy, beneficial knowledge", it added.
On some occasions, up to six million people have been logged in to play an individual quiz.
At least two of the leading apps are now displaying messages saying that their quizzes are being halted temporarily.
How do these quizzes work?
The games tend to follow the same format as quizzes such as HQ Trivia, which has become very popular in the US.
Played on smartphones in real time, they are free to enter and anyone can download the many quiz apps which have popped up.
Hosted live by a real quizmaster, competitors have to answer a series of multiple-choice questions.
You typically only get ten seconds to respond (presumably to try and limit cheating). And getting an answer wrong means you're out.
Those remaining at the end of the quiz share the prize money.
How much can you win?
Rival companies have tried to out-do each other to attract players, leading to an escalation in prize money.
In January, quiz app Chongding Dahui (which roughly translates as "the race to the top") started offering a prize of 100,000 yuan (£11,240; $15,750) for its nightly quiz.
That prompted others to weigh in with even bigger prizes - and so far billions of yuan have been up for grabs.
But, because so many people are playing each quiz, there are often tens or hundreds of thousands of winners, meaning the payout can be relatively small.
Winnings are usually sent directly to WeChat or Alipay accounts - the two dominant digital payments businesses in China.
---
'Self-achievement... and a way to earn money'
By BBC Beijing Staff
Money plays a big role in the popularity of these real-time quizzes.
If you get a little luck, you can earn about 15 yuan (£1.70; $2.36) per hour - which is more than what some part-time jobs pay in China. So for some people, especially in the smaller Chinese cities and villages, it's a way to earn money.
But others say the quizzes give them a sense of achievement. Because the questions are varied and random, better-educated people may lose to those less-educated, and kids might beat grown-ups. And people can - and do - show off their scores on social media.
The quiz craze builds on the popularity of China's live-stream apps. Those streams have become a major source of entertainment for people in less-developed regions who have plenty of leisure time but little money to spend, or places to spend it. And when those videos began to get boring, lively quizzes reignited the excitement.
While there are questions about poetry, literature and history, not all are so serious. There's celebrity gossip in there too - and it's those sorts of quizzes which seem to have prompted concerns that the public is not being educated but instead, being misled.
---
If they're free to enter, how do they make money?
The most high-profile quizzes are run by the likes of search giant Baidu, e-retailer Alibaba, video game maker NetEase, news feed platform Toutiao and the son of Dalian Wanda founder Wang Jianlin, Wang Sicong.
In other words, they're all no strangers to making money.
To make the quizzes sustainable, the firms running the apps are recruiting advertisers and sponsorship.
Much like with primetime television, adverts are shown throughout the broadcast.
And of course the tech firms hope that users will come for the quizzes, then hang around and use other services.
But not all of them are convinced it is more than a fad.
"If you ask me why I do this, to be honest, I don't really know if I can make money," said Zhou Hongyi, chairman of Qihoo, another company involved in quiz apps.
"But from a user's perspective, I think this is really fun."
What are the regulators saying?
A big challenge for the quiz providers is ensuring they don't attract the attention of government censors.
The State Administration of Press, Publication, Radio, Film and Television issued a notice saying some quizzes were essentially, click-bait, and described content as "vulgar and tawdry".
It added that "extravagance or sensationalism" should not be promoted and that "mammonism" - meaning the greedy pursuit of riches - must not be encouraged.
Excessive marketing during shows was also banned, the regulator said.
Instead, quizzes should encourage "healthy, beneficial knowledge that promoted core socialist values" the notice said.
Meanwhile anchors who host the quizzes need to have "proper qualifications and be morally upstanding".
The new guidance comes amid a broader crackdown on online content.
Beijing has run an official campaign against internet addiction, and the country has seen a shut down of livestreaming sites and blogs.