Why is the manbag on the rise?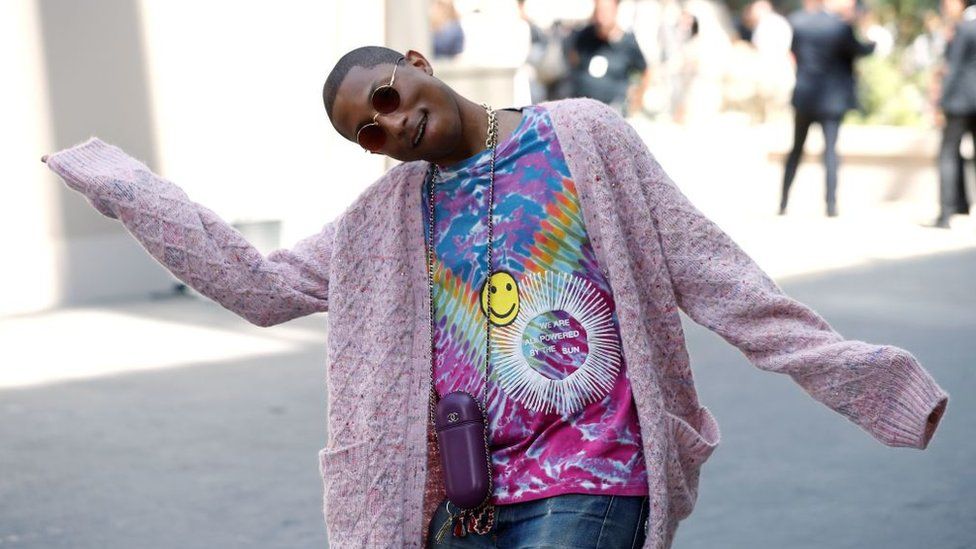 Here's a question. Does a bag have a gender?
My husband recently spent more than £100 on a Scandi-made rucksack - black canvas, hint of leather on the trim.
But has it ever crossed his mind that he's carrying a manbag? Well, yes, as it happens. To my surprise it has and he's happy, proud even, to admit it.
And he's not alone - according to Mintel 15% of British men bought a manbag last year - and that rises to nearly a quarter among 16-34 year olds.
Of course it doesn't hurt that big names have flocked to adopt the trend. Pharrell Williams, David Beckham, Kanye West, Ryan Gosling and Justin Theroux are just some of those who've been spotted rocking a manbag.
Last year style bible Vogue got to grips with the issue. From it we learnt there are also such things as "murses" - man purses - or, if bigger, "motes" - men's tote bags.
It seems though it's not a new fashion. Back in 2016, GQ magazine investigated "A brief history of the man-bag" and traced its origins back to Renaissance girth pouches.
So isn't the UK's male population latching onto the whole thing a bit late?
Continental European men have long appreciated the benefits of carrying their knick-knacks in their own reticules.
In fact, according to the Urban Dictionary a "man's bag that resembles a purse" is called a "European carry-all".
Back in the day, of course, men carrying anything resembling a handbag were the butt of jokes.
In a 1998 episode of Jerry Seinfeld's sitcom he was accused of carrying a purse. "It's not a purse. It's European", he insisted.
So what makes a bag a manbag?
Mintel senior fashion analyst Tamara Senders likes to keep things simple.
A manbag is "a bag worn by men, including backpacks and other styles such as shoulder bags", she informs us.
Plenty to go at there, then. And plenty of scope for all manner of design houses to muscle in on the trend.
"The popularity of manbags among young men has... benefited the premium end of the market," says Ms Senders.
"Men favour buying designer brands for themselves over own-brand bags".
And the likes of Stella McCartney, Louis Vuitton, Fendi, Gucci and Dolce and Gabbana have all got in on the act and brought out bags specifically targeted at men.
Some men certainly seem prepared to pay royally for the kudos of carrying the right bag.
On its website, Louis Vuitton's Armand Backpack, for example, would set you back £3,150; Gucci's print leather drawstring backpack is £1,350; and Fendi's Peekaboo regular black leather bag is £3,970
Still manbags have still got a way to go. Last year more than half of women bought a handbag, Mintel says.
The UK market for handbags and manbags combined grew by 5.5% and is now worth £1.45bn.
Bags, it seems, are big business.
Back to GQ's trot through the history of the manbag and the magazine tells us that the "watershed of men's bags was broken" in 2013 when new Bank of England Governor Mark Carney spurned a briefcase in favour of a "soft-sided, long-handled grey bag" when he gave his first big speech.
But if you're still left with the feeling that a manbag by any other name is, well, a bag...