Laura Ashley shares plunge 26% on profit warning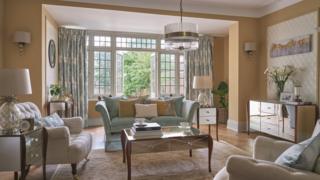 Home furnishings and clothing retailer Laura Ashley has issued a profit warning after reporting disappointing Christmas trading figures.
It warned "continued market challenges" and the weaker pound meant full-year profits would be lower than expected.
Like-for-like sales fell 0.5% for the 26 weeks to 31 December, while pre-tax profit nearly halved to £4.3m.
The news sent shares reeling. At one point they fell 26%, pulled back to a 4% loss and were down 8% by the close.
Laura Ashley, which is owned by Malaysian firm Mui Group, saw online sales saw grow by 5.1% during the period.
Laura Ashley chairman Khoo Kay Peng said the retailer hoped the launch of a new digital platform in the second half of 2018 would help boost its offerings.
Licensing opportunities
The retailer's two UK boutique hotels reported steady growth of £1.2m for the period, while its Laura Ashley-furnished "Tea Room" model has also done well.
In July 2017, the retailer launched a new concept allowing hotels to open their own Laura Ashley-branded tea rooms, offering afternoon tea and decorated using Laura Ashley furnishings.
The first of these is at the Regency Hotel in Solihull near Birmingham.
The retailer opened the first of its Laura Ashley Hotels in 2013. It currently has two: Laura Ashley The Manor in Elstree and Laura Ashley The Belsfield in the Lake District.
Laura Ashley intends to develop and expand the two concepts as licensing models, both domestically and internationally.
After the termination of a licensing agreement with Aeon Holdings in Japan, Taiwan and Hong Kong, Laura Ashley is now once again in possession of the brand's master licensing rights.
"The Laura Ashley brand has been much-loved in these territories for over 30 years, and we see an exciting opportunity to build on this with the master licensing rights back under our management," said Mr Khoo.
The retailer said it also hoped to expand its presence in overseas markets after successfully entering the Chinese market, and after acquiring a partner in Thailand to help develop its brand further in south-east Asia.
'Not relevant'
Neil Wilson, senior market analyst at ETX Capital, said Laura Ashley had failed to keep pace with changing consumer trends and had not "managed to stay terribly relevant". He also took issue with the retailer's reasons for poor Christmas figures.
"How can management get away with blaming the weak pound last year?" he said. "We are no doubt not alone in pointing out that sterling was broadly higher in 2017 and enjoyed a 10% gain versus the US dollar."
He added: "Like M&S, the ecommerce offering is not just up to standard yet."