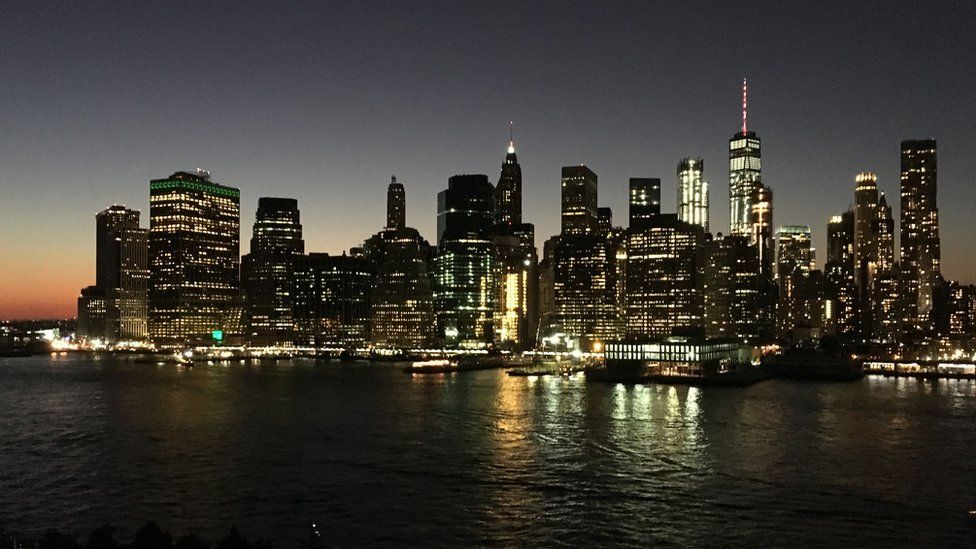 The US matters more than Europe.
Keeping up with the US is more important than keeping in with the EU.
Amidst the flurry of ideas about how to keep the links between Europe and its financial hub, London, intact after Brexit, a calm resolve is emerging among finance chiefs in London.
Keeping London competitive with New York is job number one. Everything else is of secondary importance.
Understanding that could make it easier to understand how the negotiations over the future of UK financial services play out.
As Barclay's chief executive Jes Staley has told the BBC - and the Prime Minister at a recent meeting - "if the UK is not careful, American firms operating out of New York will dominate global finance. Free access to the EU single market in financial services is nice and it provides a strong home market but it is not worth pursuing at any price".
Keeping up with US financial firms just got more difficult after Donald Trump poured rocket fuel into their tanks with tax cuts which will provide them a windfall of tens of billions of dollars.
Keeping up with US is one reason the UK cannot end up as a "rule taker" - passively adopting any future changes in EU regulations.
Miles Celic, the Chief Executive of financial lobbying group, TheCityUK, explained: "Of the business done in the City, 25% is UK domestic, 25% is EU related and 50% is international. You cannot be a world leading financial centre and have your rules written somewhere else"
Not only that, but as the UK discovered to its cost, it is UK taxpayers and the UK's central bank who may have to stand behind Britain's financial sector in a crisis and therefore the UK must call the shots.
The Governor of the Bank of England agrees and has said so publicly several times.
If we are to compete globally, say finance chiefs, some divergence from EU rules is inevitable.
Ideas about how to manage that without causing a financial roadblock for both the UK and EU are beginning to take shape.
The easy answer is something called "equivalence" - something already granted by the EU to non-EU members.
It allows countries to offer services in the EU without exactly mirroring every rule and regulation, on the basis that the outcome (eg financial stability) is roughly the same.
This is no good according to a leading lawyer on the subject, Barnabus Reynolds of the firm Shearman and Sterling who says "equivalence doesn't work because it is granted unilaterally by the EU and can be revoked at very short notice (30 days) by politicians".
Many big US banks with significant EU operations based in London - including Goldman Sachs and JP Morgan - have dismissed this idea as unstable.
A new idea has emerged which many in London are pinning their hopes on. It's already been given a number of snappy titles.
"Enhanced equivalence", "managed divergence" or "mutually recognised regulation" all essentially mean the same thing, that UK and EU rules are allowed to diverge by continual agreement thrashed out at regular meetings between regulators from both jurisdictions.
The Chancellor of the Exchequer Phillip Hammond got behind this idea at his Mansion House speech last June as did Dexeu Secretary David Davis at a speech at the UK headquarters of Swiss bank UBS.
Rachel Kent, a lawyer at the firm Hogan Lovells and chair of the industry wide International Regulatory Strategy Group, which has been trying to find a way through this jungle, said "my feeling is that this idea has quite broad support".
But what does the EU think? Its Chief negotiator Michel Barnier has been clear - there is no special deal for the City.
Mr Celic says there is a certain amount of theatre about that position which doesn't fully reflect the real position - "publicly, EU voices are saying - look, this is a phase two issue and we are not ready to discuss this yet. Privately a lot of them think it makes an enormous amount of economic sense. The problem is the politics".
Rachel Kent agrees. "While they don't want to discuss it yet, they are enormously appreciative there is something solid to discuss".
One thing in all this is clear. The financial services industry has put in a lot of grey matter, elbow grease and air miles into wrestling with these issues. While UK and EU politicians wrangle with each other and themselves, that is a good thing.
Financial services is the UK's biggest export sector, employs 1 million people and pays 12% of all UK taxes. Like it or loathe it, its importance to the UK economy is enormous.
Could other industries copy this blueprint? Foreign Secretary Boris Johnson would give a resounding "yes!". But finance is slightly different than other sectors. Pharmaceuticals, for example, need licenses for products and if you want to sell those products in the EU, you must abide by those rules.
Pharma companies are, therefore, much more prepared to be "rule takers".
The dependence of agriculture on trade with the EU means it's hard to imagine any farmer being prepared to focus on competing with the US rather than the accessing closer EU markets.
There may be lessons to learn from its approach but it looks like the financial services industry is trying, perhaps justifiably, to play by its own rules.