Arsenal and Emirates in £200m shirt sponsorship extension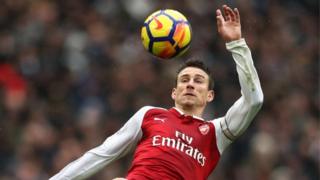 Premier League football club Arsenal and airline Emirates have signed a five-year extension to their long-running shirt sponsorship deal.
The size of the deal is believed to be in excess of £200m ($280m).
The Emirates name will feature on the shirts and kit of all Arsenal teams until the end of the 2023-24 season.
It is the largest sponsor deal signed by the London club, and will see the Emirates shirt partnership, which began in 2006, run to at least 18 years.
That will surpass Arsenal's previous longest, 17-year, shirt deal with Japanese electronics firm JVC from 1981 to 1999.
---
Longest shirt deals of the Premier League's top five
Manchester City - 12 years with Japanese electronics firm Brother, from 1987 to 1999. This longevity is set to be surpassed by City's current shirt deal with airline Etihad.
Manchester United - 18 years with Japanese electronics firm Sharp, from 1982 to 2000.
Liverpool - 18 years with Danish brewer Carlsberg, from 1992 to 2010.
Chelsea - 10 years with South Korean electronics firm Samsung, from 2005 to 2015.
Tottenham Hotspur - 13 years with German brewer Holsten, from 1983 to 1993 and again from 1999 to 2002.
---
Arsenal-backed campaigns
"Our shirt partnership is the longest running in the Premier League and one of the longest relationships in world sport," said Arsenal chief executive Ivan Gazidis.
He said that the new agreement would see "significantly increased investment" from Emirates, which would help the club in its quest for trophies.
As part of the extended deal, Arsenal will also fly on Emirates planes on pre-season tours.
Meanwhile, the airline will retain marketing rights to develop campaigns and initiatives featuring Arsenal around the world.
Arsenal's home will continue to be known as Emirates Stadium up to 2028, as part of an extension agreed in 2012.
Emirates first signed its sponsorship agreement with Arsenal in 2004, providing the airline with naming rights to the stadium until 2021 and a shirt sponsorship that began in the 2006-07 season.
The current deal is one of the longest in English football, but still has some way to go to match the 34-year partnership between Dutch club PSV Eindhoven and electronics firm Philips.
However, that partnership is unusual in that PSV football club started life as the company's works team.