Carillion: Regulator was warned over pension deficit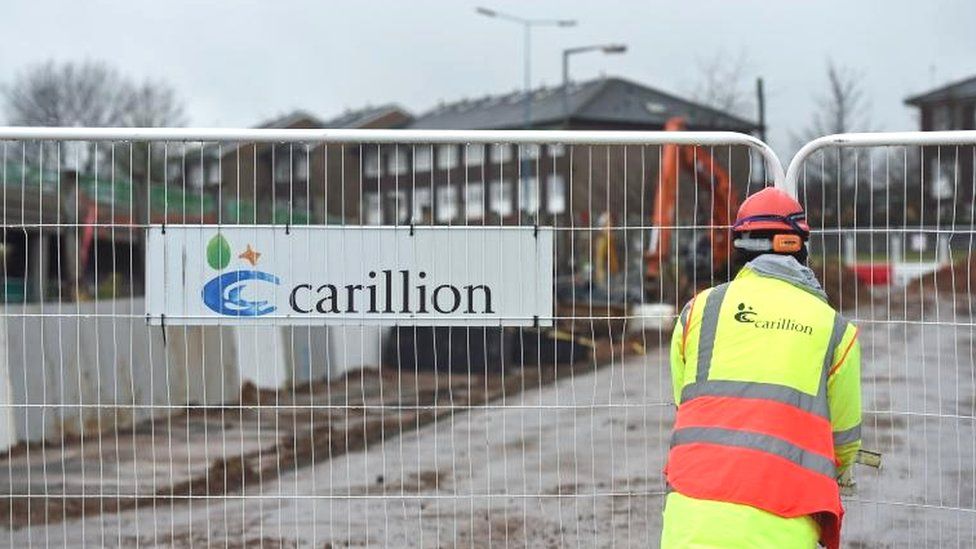 The Pensions Regulator was twice asked for help in getting Carillion to pay more into its pension schemes in the years running up to its collapse.
Letters published by Parliamentary committees show the construction firm's pension trustees wrote to the regulator in 2010 and 2013 to flag up problems.
The regulator has been criticised for failing to take early action to protect pensioners.
However, it said it did get Carillion to raise its pension payments in 2013.
Carillion went into liquidation last month. The construction giant - which also provided services for schools, hospitals and prisons - had only £29m of cash left, but a pensions deficit of hundreds of millions of pounds.
In 2010, trustees had written to the Pensions Regulator saying that while they had advised Carillion that it needed to pay a minimum of £35m a year to help clear the pensions deficit, the maximum offered by the firm was £25m. The trustees deemed this "not acceptable".
The 2013 letter said trustees wanted contributions of £65m a year over 14 years, but the company had offered £33.4m over 15 years. The trustees said they had reached an "impasse" with the firm and wanted "intervention" from the regulator.
The chair of the Work and Pensions Committee, Frank Field MP, said: "These letters suggest the Carillion directors were contemptuous of their pensions obligations.
"Their private pleading that the company could not afford more was in stark contrast to the rosy picture - and bumper dividends - being presented to the outside world.
He added: "With characteristic alacrity, the Pensions Regulator started its arduous process of chasing money down from Carillion a few days after it was formally announced there was no money left. I can only assume - and hope - they are going after some of those very generous bonuses."
In response, the Pensions Regulator said: "When the trustees wrote to us in 2013 to say they could not agree funding plans with the company, we did intervene by threatening to use our powers unless a funding plan was agreed.
"Our intervention resulted in a significant increase in the amount of money the company was prepared to pay into the scheme. We believed this was reasonable, based upon our understanding of the company's trading strength as set out in its audited accounts.
"The investigation we have now launched is looking at whether there are grounds to use our anti-avoidance powers."
On Monday, the Official Receiver - the body in charge of liquidating Carillion - said a further 152 workers would be made redundant this week, taking the total number of jobs lost to 1,141.
The failure has also led to job cuts and widespread disruption among sub-contractors.