Qualcomm boosts NXP bid as it resists Broadcom takeover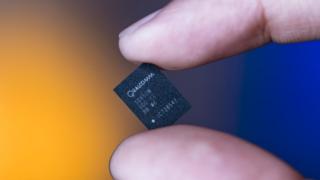 Qualcomm has boosted its bid for Dutch rival NXP Semiconductors, an increase that comes as the chipmaker faces a hostile takeover attempt by Broadcom, another technology giant.
Qualcomm said it would pay $127.50 a share for NXP, up from an earlier offer of $110.
Qualcomm also said the proposal had the backing of NXP investors who had blocked the previous plan.
Broadcom criticised the move and said it was evaluating its options.
The firm said Qualcomm should have considered Broadcom's offer instead of pursuing a plan to "transfer value" to NXP shareholders.
Broadcom said: "Broadcom believes the price increase demonstrates the Qualcomm board's disregard for its fiduciary duty to maximise value for Qualcomm stockholders."
Broadcom in November unveiled a $103bn proposal to purchase Qualcomm, an offer Qualcomm rebuffed as too low.
Qualcomm also said a tie-up was likely to raise anti-trust concerns.
Broadcom came back with a higher offer earlier this month, but the proposal required Qualcomm to stick with its lower $110-a-share bid for NXP.
If Qualcomm successfully acquires NXP, it puts pressure on Broadcom to back off or offer a higher price.
The jockeying comes amid broader consolidation in the industry.
NXP proposal
Qualcomm has been pursuing NXP since 2016, but the deal stalled as activist shareholders including the hedge fund giant Elliott Advisors pushed for a higher price.
On Tuesday, Qualcomm said an increase was merited because of NXP's growth, including increased manufacturing of chips for carmakers.
Qualcomm has said that NXP's strength in that area would help diversify its business. The chipmaker has relied on smartphones to power its growth, but it is feuding with Apple, a major customer.
Qualcomm said the new offer for NXP had already won the necessary regulatory approvals in eight of nine countries.
The deal also has the approval of both firms' board of directors, as well as nine shareholders, including Elliott, which collectively own almost 30% of NXP's stock.
Qualcomm shares sank by more than 3% in morning trade, but Broadcom shares were higher.