How bands are escaping the music industry snake pit
By Chris Johnston
Technology of Business reporter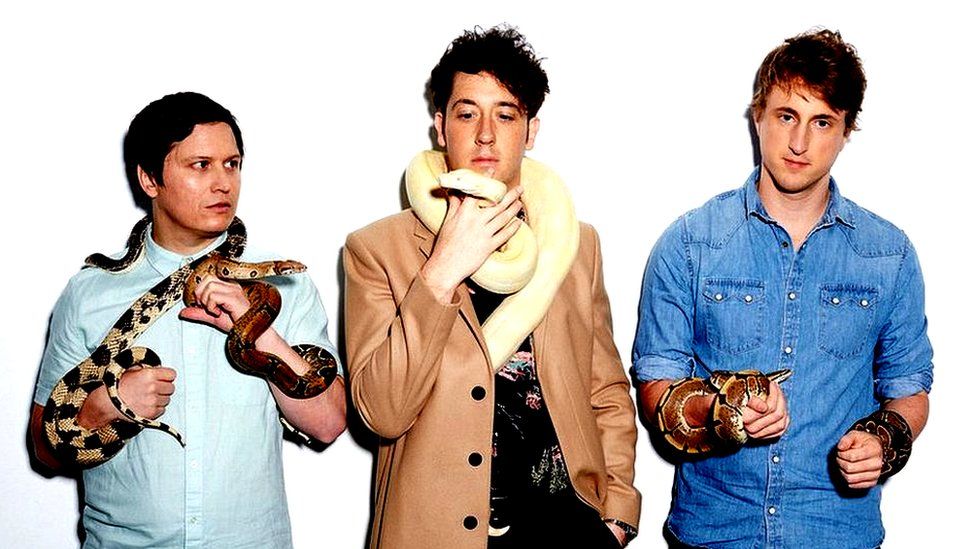 Music streaming - playing songs over the internet "on demand" - is widely regarded as having saved the music industry, following an era of music piracy marked by falling CD and vinyl sales.
Yet songwriters and musicians have long complained that they're not getting their fair share of the spoils. Now a number of tech start-ups are trying to help them receive what they're owed and give them more control.
Dan Haggis, drummer with Liverpool band The Wombats, is a happy man. The band's fourth album, Beautiful People Will Ruin Your Life, recently entered the UK chart at number three - a career best.
And this time around, they stand to make more money from their success.
This is because they've signed to Kobalt, a technology-driven music services company that gives songwriters and bands complete ownership of their work and a greater share of income than has traditionally been the case in the industry.
"We never used to make any money because we were always paying off our advances," recalls Haggis, whose band formed in 2003. "We'd get about a 20% share of revenues and the label would keep the rest.
"Now we get to keep about 90% of what we earn ...it's such a difference, it just made sense."
Other tech start-ups such as Mycelia and Choon are also trying to use new technology, such as blockchain, to give more financial power back to music creators and help them track down what they're owed.
Mycelia, a "think and do tank" of music professionals set up by London-based artist Imogen Heap, argues that having a verified global registry of artists and their works would help make the payment process more transparent.
And Choon, a new streaming service and payments platform, is based on the Ethereum blockchain and promises to get more cash to artists by paying 80% of the revenues generated by their streams to them directly.
It was the byzantine nature of the music industry's payments system that inspired Kobalt's Swedish founder, Willard Ahdritz, to set up his music publishing and technology platform, with the aim of collecting and tracking artists' song royalties much more quickly and accurately.
Clients can see on an app how much revenue their works are generating globally in real time.
"Transparency is probably the key word," says Haggis.
One of the problems to date has been the lack of metadata accompanying song information, argues music writer Stuart Dredge. If a recording lacks the necessary credits for the writers, performers and producers, they may not get their cut.
"Streaming isn't the villain," he says, "but it's shining a light on some of the music industry's historic problems around data and attribution and making sure the right people get paid."
But music analyst Mark Mulligan is highly sceptical of blockchain's potential to become a force in the music business.
"No label or rights association is going to allow blockchain to gain any momentum because they rely on a lack of transparency - there's a huge amount of revenue that's never attributed properly because of messy data and that just goes straight to the bottom line of record labels and publishers," he says.
While so-called collection agencies will try to track down royalty payments for artists and protect their copyright, they acknowledge that this isn't always easy given the complex nature of a global industry that now has so many distribution platforms.
PRS for Music, one of the UK's biggest music licensing societies, is involved in a multinational project with Berlin-based ICE Operations, which is attempting to automate copyright processing using cloud computing and machine learning.
"There's an awful lot more to creating a successful song than most people realise," explains PRS chief executive Robert Ashcroft, "it doesn't just happen. From the idea to the crafting, from the engineering to the sound production and promotion - it's the result of a lot of professional effort."
Better technology enabling royalty tracking and payments means that artists and writers are starting to get paid for the first time in markets such as China, where piracy has previously dominated.
Streaming is now raking in more than $5bn (£3.6bn) globally for the three major music groups - Universal, Sony Music and Warner, considerably more than the $3bn from sales of CDs and vinyl records. Services such as as Spotify, Deezer, Tidal, Apple Music, YouTube and Amazon Music have become the de facto way many of us now source our favourite tunes.
More Technology of Business
Spotify dominates, accounting for around two-thirds of all song streams. But it pays many music labels less than a cent per stream. How much of that the songwriter or band gets depends on the deal it has with the label, but the ratio of label income to artist income is roughly 4:1.
Good news for songwriters.
Meanwhile Kobalt continues to grow in popularity. The firm now manages about one million songs and accounts for roughly 40% of the songs on the UK and US top 100 charts.
Its roster of artists includes Max Martin, who co-wrote hits such as Shake It Off for Taylor Swift and Roar for Katy Perry, as well as household names such as Lorde, Dave Grohl of the Foo Fighters, Sir Paul McCartney, Pet Shop Boys and Enrique Iglesias. And it is now moving into music recording as well.
The Wombats' Dan Haggis hopes that better technology will help secure the band's future.
"With any luck we will start having some money from each of the streaming services each month to keep the band going so that we don't have to rely on playing live and selling merchandise," he says.
"It's kind of an exciting time really, putting that power back in bands' hands, giving you control of your career and where you're going with it."