Kylie Jenner 'sooo over' Snapchat - and shares tumble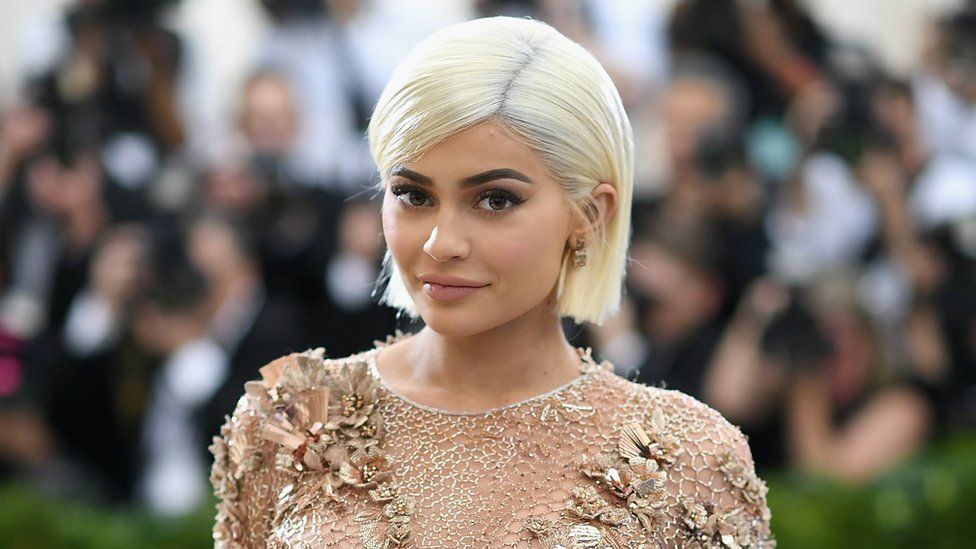 Reality TV star Kylie Jenner wiped $1.3bn (£1bn) off Snap's stock market value after tweeting that she no longer used its Snapchat messaging app.
Celebrity Kim Kardashian's half-sister posted: "sooo does anyone else not open Snapchat anymore? Or is it just me... ugh this is so sad."
Snap's shares sank after Ms Jenner's tweet about Snapchat's re-design to her 24.5 million Twitter followers.
After dropping almost 8%, shares in Snap closed 6% down on Wall Street, and are now back near the $17 price at which the shares were listed when the company floated on the stock market in March of last year.
Snapchat is facing intense competition from Facebook's Instagram - especially for celebrity users - and Ms Jenner's attack comes at a time when investors are already worried.
Even before Ms Jenner's Tweet, shares had been sliding. This week, analysts at Citi also downgraded the stock, pointing to the negative reaction to the redesign.
Ms Jenner later tweeted a follow-up: "still love you tho snap... my first love".
sooo does anyone else not open Snapchat anymore? Or is it just me... ugh this is so sad.

— Kylie Jenner (@KylieJenner) February 21, 2018
still love you tho snap ... my first love

— Kylie Jenner (@KylieJenner) February 21, 2018
Snap has rejected complaints about November's re-design to its messaging app, with its boss Evan Spiegel saying earlier this month that users just needed time to get used to it.
Mr Spiegel had something to soften the blow, though, with news on Thursday that his total pay last year was a staggering $637.8m.
It is thought to be the third-highest annual package ever received by a company's chief executive.
Analysis: Rory Cellan-Jones, Technology Correspondent
The market just doesn't know what to think of Snap or its Snapchat service. It is either the future of communication - or a social media fad that will last not much longer than one of the messages its army of young users sends.
And that makes a share price which has mostly been built on a very optimistic view of future growth extremely volatile.
Earlier this month it soared by nearly 50% on results that were marginally better than expected - now they've taken a minor tumble because a reality star says the new design is "so sad".
Investors will continue to need strong stomachs - especially when they see how much founder Evan Spiegel is taking home.
Kylie Jenner is not the first celebrity to move markets.
In October 2015, TV host Oprah Winfrey bought a 10% stake in Weight Watchers, endorsing the firm publically at the same time.
Investors saw their shares rise by 92% over successive weeks.
When the former First Lady, Michelle Obama, turned up to an event wearing Versace or another designer brand, Wall Street noted the immediate effect on share prices.
They dubbed it the "Michelle mark-up".
Snapchat's shares have been particularly volatile since the company went public last year, with investor profits sometimes evaporating as fast as pictures and messages disappear from the site.
The shares plunged by 17% in August, after disappointing results.
But in the first weeks of this month shares bounced back by almost 50% after Snapchat reported a 72% rise in sales in the last quarter of 2017, with no fewer than 187 million people using the site every day.
"Part of the problem is Snap isn't profitable at the moment, so there's a fair amount of hope for the future already baked into the share price, making it particularly vulnerable to swings in sentiment," said Laith Khalaf, senior analyst at Hargreaves Lansdown.
"Snap's future rests on building user numbers, so anything which could undermine that journey is naturally going to unsettle investors."