The craft beer firm with a thirst for global growth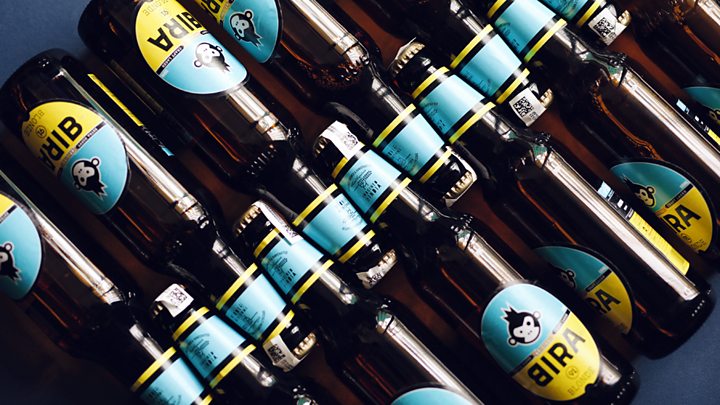 Walking into a bar in India, it is hard to miss the bottles of Bira 91 beer.
Featuring a cartoon monkey with a punk hairdo and one eye smaller than the other, the labels read: "Imagined in India".
Despite only launching in 2015, Bira 91 is now immensely popular across a country dominated by ubiquitous Kingfisher.
Entrepreneur Ankur Jain started the brand when he moved back to his native New Delhi after 10 years living in New York.
Noticing a gap in the Indian market for craft beers - beers more flavourful and carefully brewed than mass-market lager - he decided to start his own brewing business with $600,000 (£427,000) of funding raised largely from friends and family.
The company began operations out of Hauz Khas Village, a neighbourhood often considered to be Delhi's hipster haven, and known for its bars and artsy boutiques.
Yet while the Bira 91 head office is in Delhi, the brewing was initially done 4,000 miles (6,400 km) away in Belgium, hence the slogan "imagined in India" rather than "brewed in India".
Mr Jain says he went to Belgium because he couldn't initially find a brewery in India that he thought was good enough.
With the Belgians being world renowned for their brewing expertise, Bira 91's two initial beers were quickly a hit in India. So much so that Bira 91 couldn't import the bottles quickly enough, and in 2016 it started making the beers at a facility in the central Indian city of Indore.
By the end of last year, annual production had increased 30-fold to 300,000 barrels of five different beers, and the company's annual revenues had reached $30m.
At the same time Bira 91 had secured $35m of external investment, including from US venture capital firm Sequoia Capital.
Mr Jain now has his eyes set on worldwide sales, and you cannot accuse him of not being ambitious.
"The intent is to become the first global brand of craft beer," he says.
Bira 91 (the 91 comes from India's international dialling code) already exports its beers to the US, specifically to New York and New Jersey.
It first started selling in those two states in 2016, after deciding to push the brand by sponsoring that year's Tribeca Film Festival in New York City.
"Our brand is in the middle of extreme hipsterdom and extreme mainstream," says Mr Jain. "Metaphorically Tribeca [a neighbourhood of New York City] is that too - it's not the Upper East Side, and it's not Brooklyn - so it worked for us."
Currently Bira 91 exports 2% of its Indian production to the US, but plans to increase that as it expands into Philadelphia and Boston. It also intends to start brewing in New York in the near future.
And it hopes to be selling into Singapore, Hong Kong and Bangkok by the end of 2018.
Now with 320 employees, Mr Jain says that he recently felt a need to reduce operational inertia in the company, and foster a culture of openness to new ideas.
"My active attempt was to ensure that a lot more people have decision-making empowerment," says the founder and chief executive.
To do this Mr Jain decided to flatten the organisational structure of the business. His fellow directors saw their senior job titles and assigned seats in offices taken away, and now employees at Bira 91 sit around the same dinner tables, allowing junior and senior employees to freely exchange ideas.
Bira 91 also opened a second Indian brewery last year in the central Indian city of Nagpur, and a third is planned for 2018.
Brewing expert Sandeep Bhatnagar cautions that if Bira 91 is to substantially increase its exports, it will have to put a big focus on making the best beer it possibly can.
"Companies like Bira, when they want to explore international markets, they have to be very cautious about the quality that they are going to manufacture," says Mr Bhatnagar, who is managing director of Ambicon Consultants, a company that helps set up microbreweries and brewpubs.
"They are talking about taking it to various Asian countries, and that market is entirely different to the Indian market. The Indian beer market is still not mature, but those places are.
"So if someone is trying to venture into a place where people have knowledge about beer, that person has to be very careful."
Advertising alcoholic drinks in India is also a challenge for Bira 91, since it is banned. As a result, companies have to turn to alternative ways to promote their products.
Some brands opt for surrogate advertising, and promote alternative non-alcohol products, such as sodas or even music festivals, that have the same brand name.
Bira 91 associates itself with food and music, particularly India hip-hop artists, and has a visual presence at events such as the prominent Indian music festival Magnetic Fields.
Mr Jain says: "We want to be part of the whole hip-hop revolution in India."
This is the latest story in a series called Connected Commerce, which every week highlights companies around the world that are successfully exporting, and trading beyond their home market.
Aanchal Chauhan, Bira 91's digital marketing head, adds: "People will start relating hip-hop with Bira.
"We want to make it a cross-cultural movement, with artist collaborations in India and abroad."
The company also uses social media extensively, across Facebook, Twitter and Instagram.
As Bira 91 pushes forward with its plans for international expansion, it intends to ultimately replicate the India model of collaborating with musical talent.
While it will face a big challenge breaking into more established beer markets, already cluttered with a host of craft beers, and with their own laws and regulations, Mr Bhatnagar is confident that Bira 91 will make a success of it.
"If they have done it in India, they can do it anywhere else," he says.