Credit card debt: Deadline set for new rules
By Kevin Peachey
Personal finance reporter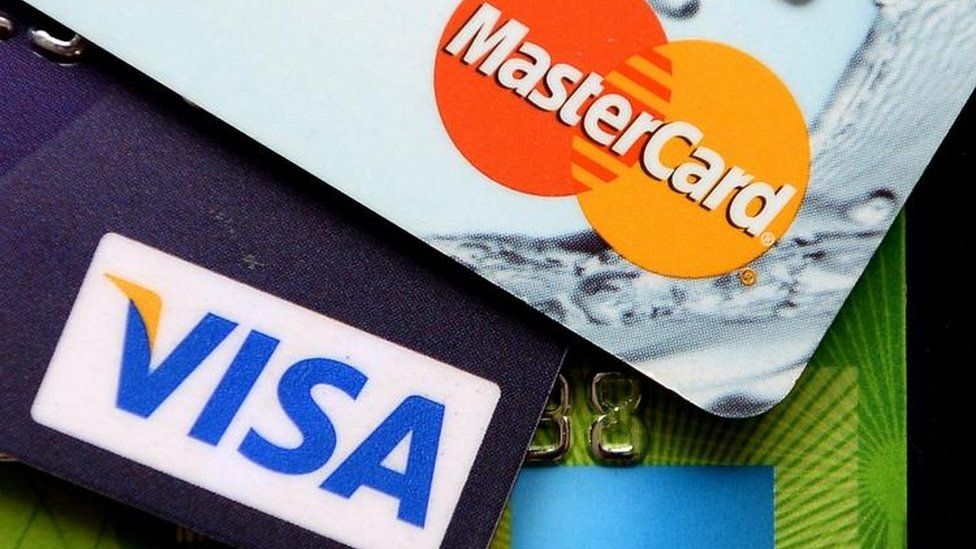 Credit card companies will have until September to implement rules designed to help people with longstanding debts, the regulator has said.
Providers have made large profits from their 3.3 million UK customers in persistent debt.
These cardholders pay an average of £2.50 in interest and charges for every £1 of debt they repay.
The Financial Conduct Authority (FCA) has ordered companies to intervene after 18 months of persistent debt.
A series of measures begins with prompts to encourage people to pay back the debt faster, and leads on to more in-depth guidance after three years, and the possibility of interest and interest being waived.
Persistent debt is defined as when customers have paid more in interest and charges than they have repaid of their borrowing over an 18-month period.
"Credit cards offer customers flexibility to manage their finances and repayments, but with this there is a risk customers can build up and hold debt over a long period of time, without making much headway on the outstanding balance," said Christopher Woolard, from the FCA.
"Under these new rules firms will have to help customers to break the cycle of persistent debt and ensure customers who cannot afford to repay more quickly, are given help."
Credit card companies have already agreed to allow customers to opt-out of unsolicited increases in their credit limit. Those who have been in persistent debt for 12 months or more will stop receiving such credit limit rises.
Credit card firms will contact customers after 18 months of persistent debt, suggesting they speed up repayments. Their card could be suspended if they fail to start paying back more
After three years of persistent debt, the credit card company must offer customers a way to repay their balance in a reasonable period, and could cut, waive or cancel any interest, fees or charges from that point if they are struggling to repay
Such measures could save debtors up to £1.3bn a year, but debt charities say there are still dangers that people can build up unmanageable debts.
"There is a need to break the cycle of firms allowing customers to build up expensive long-term debt on what is meant to be a short-term borrowing facility," said Peter Tutton of StepChange debt charity.
"The new rules do not address the continuing risk that firms will allow new profitable customers to rack up expensive debt for a long period - only to inflict unattractive compulsory action on them further down the line."
Richard Koch, director of cards at UK Finance, which represents the industry, said that the rules were an "important outcome for consumers".
"We will continue to work with the regulator to ensure the credit card market remains competitive, innovative and responsive to the needs of all its customers," he said.
A customer who borrows £3,000 on a credit card with an APR of 19%, and only makes minimum repayments - starting at £74 per month and reducing over time - would typically take 27 years and seven months to pay it off (assuming there is no further spending on the card). The interest paid would be £4,192
If the customer fixed their repayments at £74 per month rather than only making minimum repayments, they would pay it off in five years and two months. The interest paid would be £1,576
If they set their monthly repayment at £108 per month, they would pay their balance off in three years. The interest paid would be £879