Cannes property show accused of sleaze and sexism
By Jonty Bloom
Business correspondent, BBC News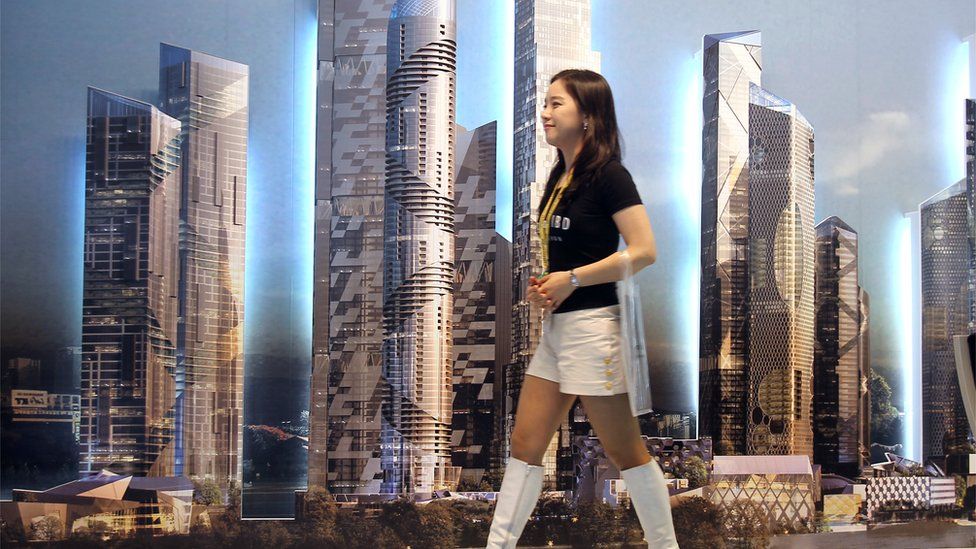 An influential property conference has become mired in allegations, of sexism, drunken behaviour and prostitution.
The organisers of MIPIM, held in Cannes in the South of France next month, have said they are reminding delegates of its code of conduct ahead of next month's event.
"Under no circumstances does MIPIM register prostitutes," it added.
The Royal Institute of British Architects has also warned its members about their behaviour at the event.
It said: "We are aware of reports regarding inappropriate behaviour at MIPIM in previous years.
"The Riba takes this matter extremely seriously and strongly condemns any form of sexual harassment or discrimination... we have strict requirements for our members through our codes of professional conduct."
Thousands of architects, construction firms, property groups, investors and government bodies head to the South of France for MIPIM every year.
The conference is billed as "The world's leading property market", but the male-dominated event has been the subject of several complaints by women who have attended and say they have been the victims of sexist abuse, drunken antics, misogyny and discrimination.
The conference has also been criticised for the large number of prostitutes that are allegedly attracted to Cannes for the event, with accusations that some used the conference's own hashtag, last year, to advertise and even that some sex workers were present at the event's opening cocktail reception.
MIPIM has strongly denied that allegation, saying: "Under no circumstances does MIPIM register prostitutes."
But the conference is also known for its after-hours parties, on luxury yachts and in private hotel rooms; which are apparently male dominated and fuelled by booze, where women delegates are rarely invited and even more rarely attend.
Now Tamsie Thomson, director of the London Festival of Architecture, is launching the Elephant Campaign, to tackle what she says is the elephant in the room; discriminatory and exploitative behaviour in the construction and property industries.
At this year's conference, delegates will be encouraged to wear elephant badges so that women know that at any meeting there are people who will not accept sexist behaviour and will stand up against it.
She says conferences like MIPIM are difficult for many women to attend, "if there are women who are there as sexualised objects being used to sell materials or whatever it might be that doesn't make you as a women going into that environment- part of the wider peer group".