US slaps fresh tariffs on Chinese aluminium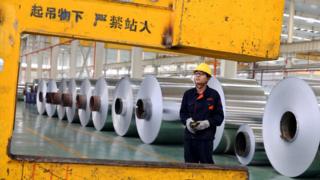 The US says it will slap tougher tariffs on Chinese aluminium alloy after an investigation into the trade.
The Commerce Department said the metal was being sold below cost or with government subsidies - making it impossible for US producers to compete.
Beijing has expressed "strong dissatisfaction" with the step and said China would pursue its legal rights.
The decision came as China's top economic advisor Liu He arrived in the US to discuss tensions over trade.
The duties will be levied on several Chinese firms - ranging from almost 50% to more than 100%.
But the decision still needs to be backed by the International Trade Commission (ITC), which is due to announce its decision by March 15.
'Unfair imports'
The tariffs follow what Washington called an "historic" probe to push President Donald Trump's tough-on-trade agenda.
"This Administration is committed to trade that is fair and reciprocal, and we will not allow American workers and businesses to be harmed by unfair imports," Commerce Secretary Wilbur Ross explained in a statement.
China's would take measures to protect its rights and interests, the country's Ministry of Commerce said.
The US investigation was launched in November last year, shortly after President Trump and US Commerce Secretary Wilbur Ross visited China.
In 2016, imports of aluminium foil from China were valued at an estimated $389m (£280m), according to the Commerce Department.
And it said it had evidence that the imports pose a threat to US industry.
Under the Obama administration, the US complained to the World Trade Organisation about aluminium subsidies in China.
But the Trump administration has embraced a more go-it-alone approach.
In April last year, the Commerce Department launched a separate investigation into steel and aluminium imports on national security grounds.