Toys R Us UK goes into administration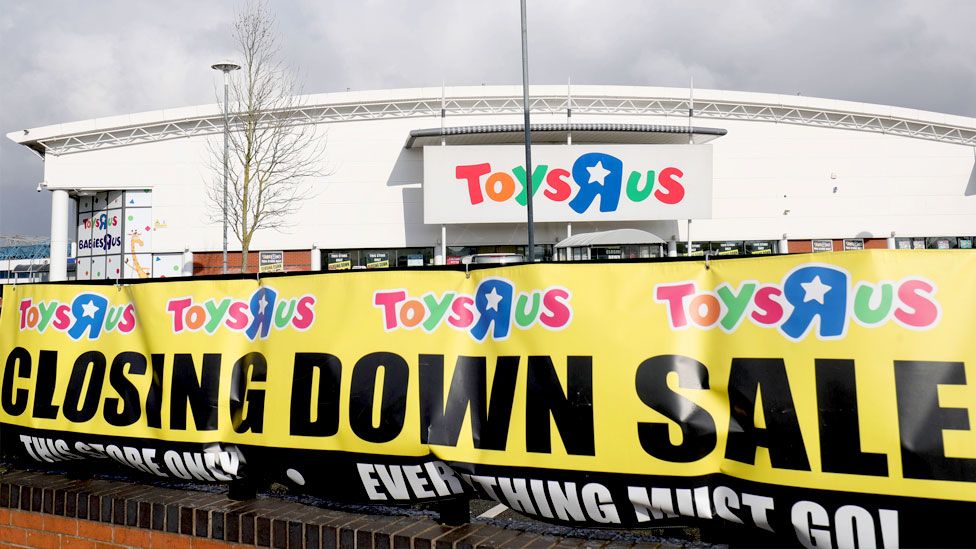 Toys R Us has gone into administration, putting 3,000 UK jobs at risk.
Administrators have been appointed to begin "an orderly wind-down" of the UK's biggest toy retailer following the failure to find a buyer.
They said that all 105 Toys R Us stores will remain open until further notice.
Joint administrator Simon Thomas said: "Whilst this process is likely to affect many Toys R Us staff, whether some or all of the stores will close remains to be decided."
Toys R Us has been facing a £15m tax bill. However, poor sales have made it unlikely that it can make the payment.
Mr Thomas said: "We will make every effort to secure a buyer for all or part of the business.
"The newer, smaller, more interactive stores in the portfolio have been outperforming the older warehouse-style stores that were opened in the 1980s and 1990s."
What does this mean for shoppers?
A large sale of remaining products at Toys R Us is expected. The administrators said this would happen in stores only, as the online service and click-and-collect will be closed immediately.
Shoppers who have ordered an item already on click-and-collect can still pick it up, but only if that item is still available in stock.
Anyone with Toys R Us gift cards and vouchers should spend them in stores as soon as possible before the shops are closed down. No more gift cards will be sold.
The retailer had a "take time to pay" service, which allowed customers to reserve a product and then pay for it gradually for 12 weeks, before picking it up. The administrators said these reservations would be honoured, provided that the outstanding balance was paid and the goods collected by 11 March.
Alternatively, customers can use their deposits towards the cost of any other item bought in a store by 11 March.
The UK arm of Toys R Us - its US owner filed for bankruptcy protection last September - managed to stave off administration in December after it struck an agreement with the Pension Protection Fund (PPF) to inject £9.8m into its retirement scheme over three years.
The scheme has a shortfall of £38m which will now be transferred over to the PPF.
People who have already retired will receive 100% of their pension payments, while whose still working will get 90%.
Andy McKinnon, acting chief executive at the PPF, said: "We will now be working to maximise the recovery to the scheme from the administration. Members of the Toys R Us pension scheme can be reassured that the PPF is there to protect them."
The struggling business had been attempting to find a buyer, but its chief executive Graham Harris said it had "not been possible to secure a solvent sale of the business and as a result, we now have no alternative but to enter into an administration process".
Julie Palmer, regional managing partner at professional services firm Begbies Traynor, said Toys R Us had "fallen foul of a perfect storm hitting bricks-and-mortar retailers across the board".
She said: "Rising costs from the National Living Wage, apprenticeship levy and inflation, combined with ongoing pressure on consumer spending and the continued rise of the internet are hitting retailers with a big High Street presence hard."
Neil Wilson, senior market analyst at ETX Capital, said: "Ultimately this is a necessary shakeout of some pretty out-dated retailers, which though terrible for those affected by job losses, is likely to mean a leaner, fitter retail market and a more productive use of capital.
"The question is whether there are more out there that could fall by the wayside."
Analysis: Emma Simpson, business correspondent
Retail is tough right now, even for the strong players.
Toys R Us has made a loss seven out of the last eight financial years. It is a subsidiary of a US business which has been drowning in billions of dollars of debt.
Financially weak, Toys R Us has been unable to adapt to changing shopping habits.
These days, many shoppers don't want or need to drive 20 minutes to a big out-of-town warehouse to buy toys.
Costs have been rising for all retailers and consumer demand has been softening. It's a combination which is putting pressure on many retailers and the weaker ones are particularly exposed.
Toys R Us was once the disrupter, a so-called category killer. Now many are wondering if it can survive in the UK and in what form.