Childcare costs: Parents of children under two pay the most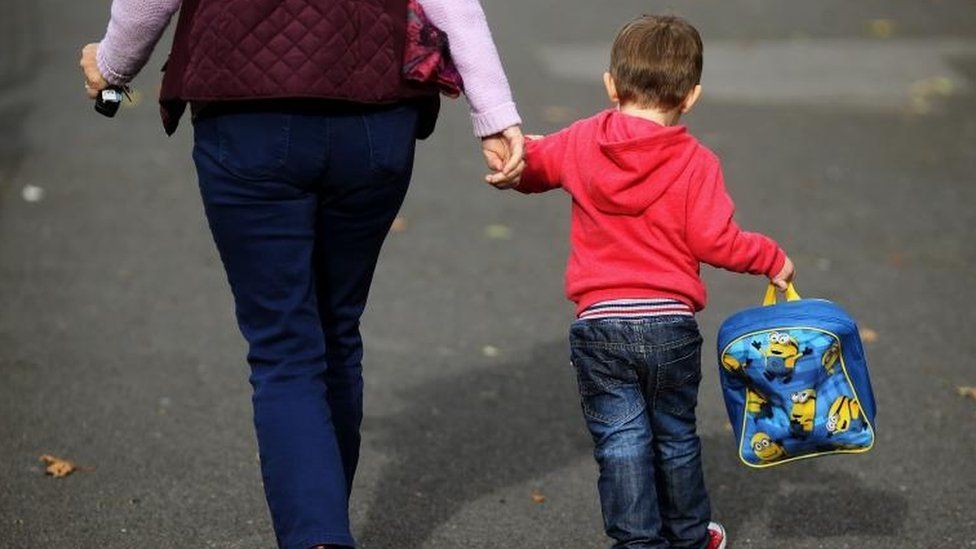 Parents with children aged under two are facing the most striking rise in childcare costs, a survey has found.
There have been concerns that the extra cost of providing 30 hours' free childcare for three and four-year-olds has raised costs elsewhere.
The Family and Childcare Trust's annual survey found that a typical part-time nursery place for a child under two rose by 7% in a year.
It now cost £122 for a 25-hour week at nursery, it suggested.
There are seven different types of financial support for parents facing childcare costs, which the Trust described as a "confusing hotchpotch" of measures.
However, those working parents who have signed up for tax-free childcare and 30 hours of free childcare for three and four-year-olds have seen the cost drop in the last year.
Instead, the Trust said it was those on lower incomes who were feeling the pinch. They saw the cost of full-time nursery places outstrip any extra help from the benefits system when they worked full-time.
It also said that the highest prices for childcare were faced by parents with children between the end of paid parental leave and the age of three, when the least financial support was available.
Typical childcare costs in Britain
Nursery costs for children aged under two: £122 a week
Nursery costs for children aged two and above: £119 a week
Childminder costs for children aged under two: £107 a week
Childminder costs for children aged two and above: £110 a week
Costs can vary by more than £80 a week between the cheapest region (North West of England) and the most expensive (inner London)
Source: Family and Childcare Trust
Ellen Broome, chief executive of the Trust, said: "Childcare is as vital as the rails and roads, it supports parents to work, boosts children's outcomes, and provides our economy with a reliable workforce. Too many parents remain locked out of work by high childcare costs and low availability.
"New government investment is welcome, but this year's childcare price surge shows that without root and branch reform, many families will be left just treading water. The government need to streamline the current hotchpotch of childcare support schemes."
Minister for Children and Families Nadhim Zahawi said it was "pleasing" that parents were now spending less of their wages on childcare "as a result of the steps this government has taken".
"There are always challenges when implementing any new policy but we are investing record amounts in childcare - around £6bn a year by 2020 - and are working with the sector, which has responded well to the 30-hour roll out to address them," he said.
However, the Trust's survey suggested that only half of local authorities in England had enough places offering the 30 hours of free childcare needed by working parents.
Mr Zahawi added that take-up of the 15 hours of free childcare for the most disadvantaged two-year-olds was increasing.
Angela Rayner, shadow education secretary, said: "The government's failure to provide free and high-quality childcare to those who need it most will keep many mothers locked out of the labour market, as rising childcare costs mean it doesn't pay to work."