Brexit: No deal would be 'hugely damaging' to car industry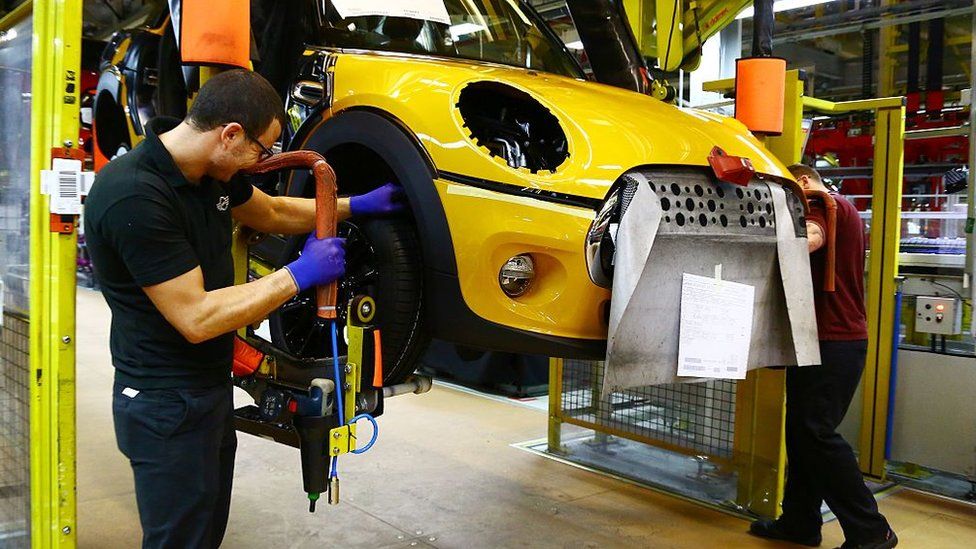 Failing to strike a Brexit deal would put "hundreds of thousands" of jobs in the car industry at risk, MPs have said.
The Business, Energy and Industrial Strategy Committee said continued close alignment with the EU would ensure the industry's survival.
And it warned the introduction of trade barriers would leave the sector unable to compete with its European rivals.
The government said it wanted a deal that maintains the industry's strength.
In a report published on Thursday, the Business, Energy and Industrial Strategy (BEIS) Committee said the UK car industry was largely export-led with Europe as the primary market.
The sector's success was built on "complex supply chains" that stretch throughout Europe, it said.
If trade barriers were erected after Brexit, it could cost the sector upwards of £4.5bn in lost exports, the committee said. Jobs and inward investment worth "hundreds of millions of pounds" would also be lost.
And it said any form of divergence with the EU would come with costs for carmakers, urging the government to focus on "damage limitation" in its talks with the bloc.
"There is no credible argument to suggest there are advantages to be gained from Brexit for the UK car industry," Rachel Reeves MP, chair of the BEIS Committee, said.
"Regulatory consistency and friction-free trade benefits car companies, consumers and car-workers.
"The Prime Minister now needs to ensure common-sense pragmatism prevails and spell out the Government's intention to seek continued regulatory and trading alignment with the EU in the automotive sector."
Despite the car industry's concerns about Brexit, a string of big manufacturers have committed to building more vehicles in Britain since the EU referendum.
In November 2016, Nissan announced plans to build the next generation of Qashqai and X-Trail sports utility vehicles at its Sunderland factory, while BMW has said it will assemble its electric Mini in Oxford.
On Monday Toyota said it would make its next generation Auris hatchback at its Burnaston plant in Derbyshire, protecting 3,000 jobs.
The government has also pledged to support the competitiveness of the UK sector after Britain leaves the EU, and has invested £20m in Burnaston alongside Toyota.
In a statement, BEIS said the industry was an "incredible success story... supporting almost half a million people in high-skilled, well-paid jobs".
It added: "The government is seeking a partnership that delivers the maximum possible benefits for both the UK and EU economies, and maintains the strength of our world-leading automotive sector.
"From production to distribution, numerous companies in this sector around the UK and Europe are highly dependent on each other which is why we must ensure cross-border trade is as free and frictionless as possible post-Brexit."
Patrick Minford, chair of the Economists for Free Trade group, formerly known as Economists for Brexit, said: "The car industry... opposes free trade which would involve strong competition from other world suppliers currently kept out of the UK market by high EU trade barriers.
"However gains from free trade will bring big benefits to UK consumers, lowering consumer prices by 8% and boosting GDP by around 4% by raising competition and productivity."