The secrets of Gary Neville's business success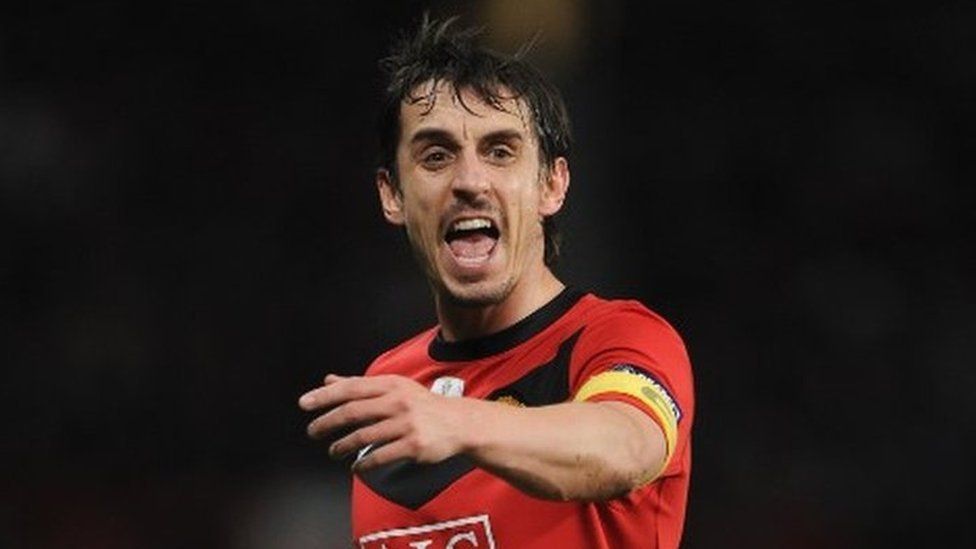 There is an element of poacher turned gamekeeper about former Manchester United football star Gary Neville, who now has a high-profile career as a trenchant football analyst.
For the player - who was dubbed 'Red Nev' in his playing days for his perceived role as a dressing room shop steward - also has a burgeoning and wide-reaching business empire that includes restaurants and hotels, property development, and a proposed university, among others.
The 43-year-old says he first started thinking about a life after football back in his early 20s, after a bad injury disrupted the career of his Manchester United friend and colleague Ben Thornley, who was released from Old Trafford after just nine league games.
"I realised then I had to be dual skilled," says Neville, who in contrast to his former team-mate went on to win eight Premier League titles, and Champions League, FA Cup and League Cup winners' medals.
After first dipping his toe in the business world at the age of 23, when he invested in a friend's design company, he now holds directorships in more than 30 companies that employ more than 500 people in total.
"After my [Manchester United] training with the team in the morning I would go into the office in the afternoon and work with a different team," he recalls of that initial foray from the dressing room into the boardroom.
The former Old Trafford captain says that he soon discovered similarities between the world of sport and business.
"In both you have to have motivated people, and they have to enjoy what they do," he says. "Also, in football and business you have to work the hardest you can every single day, and make sure you never give in."
However, he says that in business - unlike in football - it can sometimes be difficult to achieve the "peer group analysis" he encountered in the high-pressure Old Trafford dressing room, where players would instantly acknowledge responsibility for mistakes.
"It can be difficult in an office for people to admit they didn't do very well, or have fallen below standards," observes Neville, who was in London for an SME business event organised by Intuit QuickBooks.
While his friend's design firm is still going strong, in his mid-20s Neville moved into the world of property development, being careful to keep this other life a secret from fearsome Manchester United boss Sir Alex Ferguson.
"He would have seen it as a distraction," Neville says, recalling sneaking into the showers to make and take business calls away from the Scot's prying eyes.
"Physically I accepted I had to have a rest [after training], but mentally I needed to be stimulated."
Major Gary Neville business interests:
Several hospitality businesses in Manchester in conjunction with partners Peter Lim, and former Manchester United team-mates Ryan Giggs, Paul Scholes, Nicky Butt and his brother, Phil.
Launched GG Hospitality management company in 2013
Opened Hotel Football, a football-themed hotel opposite Old Trafford in 2015. It includes a supporters' club bar, which he promised to build for fans after his playing days ended
With Ryan Giggs owns a stake in four Cafe Football restaurants; two in Manchester, one in London, and one in Singapore
Is developing the Grade II listed Manchester Stock Exchange building into a 35-room hotel
Is seeking planning permission for St. Michael's, a major property development project in Manchester city centre that is proving controversial
Co-owns non-league Salford City Football Club
Is a shareholder in e3creative, a digital agency that includes website design and app development
With former Man Utd team-mates plans to open a university in conjunction with Lancaster University
The former England international says from the age of 32, until his retirement at 36, he started to really focus on three areas that might provide a post-playing career - seeking out media training, obtaining coaching badges, and expanding his business interests.
"It can be like falling off a cliff ending your football career, going from playing in front of 75,000 people and then not being able to do that any more," he says.
"I thought logically - 'how am I going to fill this large void that is going to come?'."
He says his parents had a strong work ethic, as did his Old Trafford coaches, which meant he was able to hit the ground running when he moved into his new careers.
The former England international says that 90% of his current business interests are making a profit, some are breaking even, and a few - like Salford City Football Club - are losing money.
"That is the reality though for a football club as it tries to make its way through the leagues," he says.
There are a couple of flies in the ointment with regard to two of his other business ventures. There is some local opposition to his plans to develop an area of flooded land in Stretford, Greater Manchester, into new training pitches to be used by Salford City and his proposed university academy.
Neville is also promising to upgrade and extend an existing group of community buildings nearby, but there are some objections, including from residents of nearby retirement accommodation.
"They are nervous about noise and light pollution. I am going to sit down and have some cake with them, and discuss things in two weeks' time," he says, adding that he believes the project will a major boost for football infrastructure in the area.
Meanwhile, his proposed St Michael's property development in central Manchester, near to the city hall, has failed for a second time to win support from heritage body Historic England, despite being scaled down last year from the original plans.
The city council's planning department is currently considering the latest application for the site, but the scheme has received a boost after the plans have been backed by council officers.
Neville has also pledged to "stop spreading myself so thinly across so many businesses this year", and part of his focused approach for 2018 also includes a pledge not to return to football management or coaching.
Meanwhile, looking at the wider economy and state of the nation, the opinionated pundit from Sky TV is as forthright as he is about the performance of Premier League teams.
With regards to Brexit, which has struck apparent fear into so many business sectors and organisations, he is bullish.
"I am not even planning for it; we have no idea about what is going to happen, if you are not careful you can sit there worrying that the world is going to end," he says.
"As employers we have to be agile, and move with changing conditions. You can't just park your bike and say we are not going on.
"It is not the biggest event in the world, we have been through a lot as a country over the past 150 years, and we will still be here in 150 years time when there will still be businesses employing people."