McCain under fire for competition prizes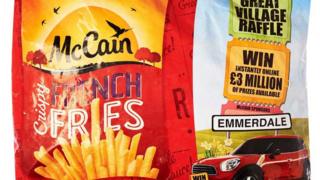 A McCain promotion in which fewer than 1% of the prizes available were won has been criticised as "cynical".
McCain Foods' Great Village Raffle claimed to offer prizes worth £3m including cars and VIP experiences on the set of ITV soap Emmerdale.
BBC Radio 4's You and Yours found that just 160 of the 28,815 prizes were won, with no cars and just four VIP experiences awarded.
McCain said it would not run a similar promotion again.
Di Coke, who writes a blog called Superlucky and has been entering competitions for 20 years, called the raffle a really cynical promotion: "They played on the ten cars being available, but none were awarded."
Entrants had to submit a code from the inside of a product packet with their email address to a website, with prizes "randomly assigned" using an algorithm verified by an independent third party.
Carey Trevill, from the Institute of Promotional Marketing, the trade body that represents the industry, said it was possible that not all the codes printed were entered.
"The winning codes and packs were out there - it's a question of whether the consumers actually chose to enter the codes and find out if they've won," she said.
"It's quite a tough one to call on how consumers are going to behave once they've got hold of a pack."
She argued that brands do not set out to mislead consumers, but admitted it should be clear whether a prize is "guaranteed to be won or if there's a chance it will be won".
The Advertising Standards Authority said there had been four complaints about the promotion since it began in January 2017.
Loss of trust
Ms Coke said companies should be more transparent about the odds of winning.
"McCain should've told us how many of the promotional packs are actually out there so we can work it out," she said.
"Ridiculously extreme figures like '£3 million of prizes' just aren't necessary to get people interested - and when those prizes are advertised but not awarded, consumers lose their trust in a brand."
Companies are not required to advertise the number of promotional packs available, but Ms Trevill said the industry needed to debate the issue.
McCain Foods told You and Yours: "The Great Village Raffle promotion clearly stated on packaging and in the terms and conditions that prizes were available to be won, not guaranteed, and was approved by the Institute of Promotional Marketing. We listen to consumer feedback however and won't be running this type of promotion again."
But for some readers of Ms Coke's Superlucky blog, the damage has already been done.
Francesca Jones said: "I didn't expect to win, but you do expect a big company to promote their competitions fairly - I feel scammed."
Joan Colwell added: "What a disgrace and from a "brand leader" - they really don't deserve customer loyalty."