Bikes, bourbon and T-shirts on EU tax list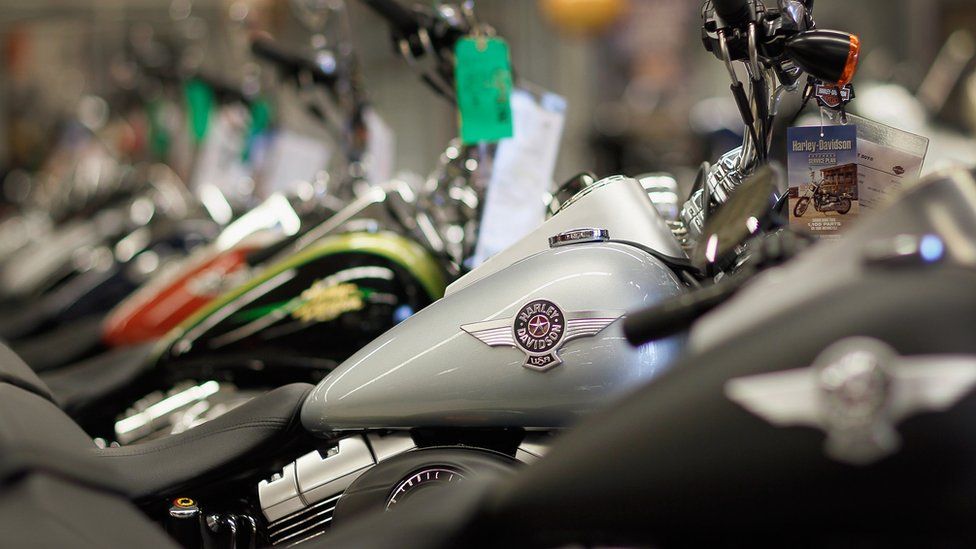 Motorbikes, whiskey and T-shirts are among the US goods that could be hit by EU taxes if the US imposes import tariffs on steel and aluminium.
The EU has drawn up a target list of 100 US goods worth €2.8bn ($3.5bn, £2.5bn), the BBC understands.
The list, which also includes cosmetics, agricultural and industrial goods, was circulated to the 28 EU member governments on Monday.
EU commissioners are expected to discuss the proposals on Wednesday.
Bourbon whiskey, orange juice
Jeans, T-shirts
Corn and other agricultural products
Steel and industrial products
Cosmetics, consumer goods, motorbikes and pleasure boats
Many of the products the EU has in its sights are specifically chosen to have maximum political effect. Bourbon whiskey is produced in Kentucky, the state of Senate majority leader Mitch McConnell.
Orange juice is a key export for Florida, a swing state in the US elections.
Several US companies such as Levi Strauss have already come out strongly against trade barriers. On Monday, it said: "Unilateral tariff impositions risk retaliation and destabilizing the global economy, in which case American brands, workers and consumers will ultimately suffer."
What is the EU considering?
On Monday, the EU Commissioner for Trade, Cecilia Malmström, told the BBC: "We are looking at possibilities to retaliate, meaning we will also put taxes or tariffs on US imports to the European Union."
She said that if the US went ahead and applied taxes to European steel, the EU would take the issue to the World Trade Organization (WTO).
Ms Malmström stressed that Europe was looking to respond "to retaliate but not escalate".
But President Trump has already threatened more retaliation. On Saturday he tweeted:: "If the EU wants to further increase their already massive tariffs and barriers on US companies doing business there, we will simply apply a Tax on their Cars which freely pour into the US."
What does Trump want to do and why?
Mr Trump has decried the "$800 Billion Dollar Yearly Trade Deficit because of our 'very stupid' trade deals and policies", and vowed to end it.
On Thursday, he said steel imports would face a 25% tariff and aluminium 10%.
Then came Saturday's threat on EU-made cars.
The BBC is not responsible for the content of external sites.
Skip twitter post by Donald J. Trump
Allow Twitter content?
This article contains content provided by Twitter. We ask for your permission before anything is loaded, as they may be using cookies and other technologies. You may want to read Twitter's cookie policy, external and privacy policy, external before accepting. To view this content choose 'accept and continue'.
The BBC is not responsible for the content of external sites.
End of twitter post by Donald J. Trump
In January, he had already announced tariffs on solar panels and washing machines.
What are US's trading partners making of this?
Downing Street said that during Mrs May's call to President Trump on Sunday she raised "our deep concern at the President's forthcoming announcement on steel and aluminium tariffs, noting that multilateral action was the only way to resolve the problem of global overcapacity in all parties' interests."
Zhang Yesui, spokesperson for China's National People's Congress, said it was natural that "some friction will exist" between the US and China, given the volume of trade between them surpassed $580bn (£420bn) last year.
But he said China would take "necessary measures" if its interests were hurt.
Canada said tariffs would cause disruption on both sides of the border. Prime Minister Justin Trudeau said he was "confident we're going to continue to be able to defend Canadian industry".
Brazil, Mexico and Japan, that have said they will consider retaliatory steps if the president presses ahead with his plan.
Has Trump got political support at home for a trade war?
A number of Republicans have questioned the wisdom of the tariff proposal and have been urging the president to reconsider.
US Speaker of the House Paul Ryan has said he is "extremely worried" about the impact of a trade war, adding that it could undermine economic gains.
Senator Orrin Hatch said American citizens would be made to pay, while Senator Ben Sasse agreed that "kooky 18th Century protectionism will jack up prices on American families".
Jason Furman, former chairman of the Council of Economic Advisers under President Obama, told the BBC the proposed tariffs were "a very costly and inefficient way to help a small number of people".
"This could be bad or awful, there's no scenario under which it's good," he added.
Industry bodies such as the US Motor and Equipment Manufacturers Association have expressed deep concern.
But steelworkers in Pennsylvania and Indiana will welcome Mr Trump's comments.
Is there room for compromise?
President Trump hinted on Monday that if the US achieved a better deal for itself in the latest North American Free Trade Agreement (Nafta) he would abandon plans for a tariff on Canada's and Mexico's steel imports.
The BBC is not responsible for the content of external sites.
The rest of the tweet is a reference to Canada and US farmers.
US Treasury Secretary Steven Mnuchin repeated that idea before a congressional panel on Tuesday, saying that he expects Mexico and Canada to be exempt from the tariffs, assuming NAFTA negotiations are successful.
Substantial changes to the Nafta agreement are not likely to happen soon, however. The current round of Nafta talks, about updating the 24-year-old treaty, finished on Monday with little progress. Mr Trump has previously threatened to withdraw the United States from the pact.
Is Trump right about the trade imbalance?
The US imports steel from more than 100 nations and brings in four times more steel from abroad than it exports.
Since 2000, the US steel industry has suffered, with production dropping and the number of employees in steel work falling.
The US is the largest export market for EU cars - making up 25% of the €192bn (£171bn; $237bn) worth of motor vehicles the bloc exported in 2016 (China was second with 16%).