Growth bond savings rates cut by NS&I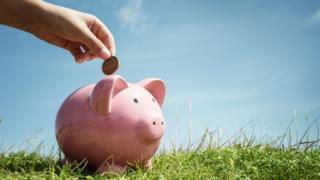 National Savings and Investments (NS&I) is to cut the interest rate it pays to investors who buy Guaranteed Growth and Income Bonds.
From Tuesday, the three-year Growth Bond will only pay 1.95%, compared with 2.2% under the previous issue.
The three-year Income Bond will pay 1.9%, down from 2.15%. The rate on the one-year version of both products will remain unchanged.
NS&I said they had proved too popular since their launch in December.
At the time they were near the top of the best buy tables, although they have since been overtaken by other savings products.
The change will only affect new savers. Those who already hold the three-year Growth Bond and Income Bond will not be affected.
The rate cut is in contrast to some banks and building societies, which have slowly been increasing their savings rates, in expectation of further base rate rises.
However, NS&I is set a specific fund-raising target by the Treasury, and that target was reduced in the Autumn Budget to £8bn.
'Disappointing' move
"Demand for the bonds in the first three months has been high," said Jill Waters, retail director of NS&I.
"It is always a difficult decision to reduce rates but these changes will allow us to manage demand in order to achieve our net financing target, while continuing to deliver positive value to taxpayers."
Anyone who has an existing three year Growth Bond will be able to roll it over for a further three years at the previous rate of 2.2%.
Holders of so-called Pensioner Bonds - launched in 2015 - have their savings put into Growth Bonds when the three-year period expires, unless they choose another option.
They too will be able to access the previous rate.
Anna Bowes, director of the website Savings Champion, said: "While it's disappointing to see a rate from this very popular provider reduce for new customers, it's not wholly unexpected, as the rate was very competitive.
"The good news is that those with maturing 65+ Guaranteed Growth Bonds will still have access to the old product offering 2.2%, for those who want to roll their funds over for another three years."
Investment Guaranteed Growth Bonds - a separate product sold online - will continue to be on sale until 10 April. They also pay 2.2%.
In the meantime savers can find better returns elsewhere. Currently the Swedish bank Ikano offers 2.26% on a three year bond, while Vanquis Bank offers 2.25%.